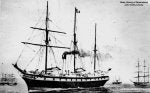 Contents
1 Introduction
2 Basic Data
3 Career Highlights
4 Known Voyages
5 Additional Information
6 External References
7 Contributors
Introduction[edit]
The photo in the heading of this article is reproduced from the Queensland Digital Library - see External Reference #1
It is not unfair to say the Alhambra had a rather chequered career as described below. Staring with a period of uncertainty about what she was to be called, she entered service with P&O on the Peninsular routes. After a number of accidents and changes of owners, her 33 year career ended when she struck a wreck and foundered off New South Wales in 1888.
Basic Data[edit]
Type: Passenger liner
P&O Group service: 1855-1862
P&O Group status: Owned by parent company
Former name(s): Laid down as Cintra, changed to Braganza and then to Alhambra prior to launch.
Registered owners, managers and operators: The Peninsular and Oriental Steam Navigation Company
Builders: Samuda Brothers
Yard: Millwall
Country: UK
Yard number: N/K
Registry: London, UK
Official number: 24758
Signal letters: PCFM
Classification society: N/K
Gross tonnage: 642
Net tonnage: 434
Deadweight: N/K
Length: 63.77m (209.3ft)
Breadth: 8.26m (27.1ft)
Depth: 4.97m (16.3ft)
Draught: N/K
Construction (if not steel): Iron
Engines: Geared steam engine
Engine builders: Humphrys, Tennant and *****
Works: London
Country: UK
Power: 454 ihp
Propulsion: 1 screw
Speed: 10 knots
Passenger capacity: N/K
Cargo capacity: N/K
Crew: N/K
Employment: UK/Peninsular service
Career Highlights[edit]
'*
Date N/K:'
Laid down as Cintra and then renamed Braganza.
31.05 1855: Launched as Alhambra. Named after Al-Hambra, the Red Palace, the ancient fortress of the Moorish monarchs of Granada in southern Spain.
29.06.1855: Registered.
04.07.1855: Ran trials.
07.07.1855: Maiden voyage. Sent out to Marseilles/Malta service.
17.03.1856: Engine trouble after leaving Malta for Marseilles. Returned to Malta on the 18th, then brought home for repairs.
18.08.1856: Southampton/Gibraltar service.
??.07.1857: Machinery failure off Portuguese coast. Towed home from Lisbon to Southampton and then to Blackwall for repairs. It is said that rumours of her problems were abroad in Southampton before they could possibly have been received.
28.09.1857: Returned to Peninsular service.
27.01.1859: Inaugurated Lisbon-only mails service (Gibraltar mails now carried by Alexandria steamers).
30.07.1859: Malta/Corfu line.
25.08.1860: Trooping Marseilles/Alexandria.
27.12.1860: Returned to Southampton/Lisbon service until it ended in 1862.
01.07.1862: Sold to Moss Joshua, London on behalf of John H Blackwood, Melbourne, for service Melbourne/Otago with McMechan Blackwood & Co.
26.09.1862: Sailed from Southampton for Melbourne.
1882: Sold to Nipper & See, Sydney.
1884: Sold to H Perdriau, Sydney.
1884: Sold to Aaron Wheeler Junior, Sydney.
30.06.1888: Struck a wreck off Newcastle, New South Wales and foundered off Port Stephens while en route Newcastle/Sydney.
Known Voyages[edit]
1. (Information provided by SN User Banjobee - source unknown):
Steam ship, from Southampton September 1862, 79 day voyage, arrived Port Phillip, Melbourne Victoria, circa 9 December 1862, Captain Godfrey (see The Argus, 11 December 1862) carried animals for the Acclimatisation Society, "1 hare, 5 white swans, 5 Egyptian geese, 20 Algerian sand grouse, and 4 hives of Ligurian bees, all in excellent condition.". 6 hares started the voyage, 1 survived, other losses included 1 swan, 1 goose and four grouse. Accompanied by Mr. E Wilson.
2. Information from External Reference #2
List of Passengers from Melbourne to the Port of Bluff, (arrived, 15th September, 1863), on the ship Alhambra, 1050 tons, Captain McLean.
Mr and Mrs YOUNG
Mrs KINGMAN
Miss CLERKE
Messrs BARKER, BOYER, YOUNG (2)
15 in steerage
Additional Information[edit]
1. The following information was provided by SN User Ruud (source unknown)
In 1862, 10 December, collided with the Pilot schooner Rip, just outside Port Phillip Heads and was considerably damaged.
On 11 December 1871, involved in collision with brig African Maid, Port Phillip. In June 1873, involved in collision with steamer Otway, Yarra River, Melbourne.1880 Season-Feb 26The steamer "Alhambra," which sailed from Halifax at 4 p.m. on Tuesday, the 17th inst., bound to Cow Bay, returned to this port, arriving here yesterday morning. Captain McElhinney furnishes us the following report of the passage: "Had nothing to note until we arrived at the mouth of Cow Bay, where we entered on Wednesday night (the evening after leaving Halifax), when the weather set in foggy, accompanied with rain and a strong breeze from the South. There was considerable ice in the Bay to the North-East of us, but the weather being so thick, could not enter the Bay, and was compelled to head off shore; consequently getting into the ice. The wind continued blowing fresh from the south, with very thick weather until noon the day following, when the wind shifted to the West and N. W., blowing hard until Friday, driving us into heavy ice. We were at this time about 30 miles to the East of Scaterie [sic] Island, where we remained, drifting about, until last Tuesday morning, before we got out. The ice then slackened, which enabled us to sail and steam ahead, getting into clear water about 50 miles SE of Scatarie. As the wind at this time was blowing a gale from the East, decided not to attempt to proceed to Cow Bay, and returned to this port." The "Alhambra" had sufficient coal to last her until her arrival here and she is in good condition, suffering no damage form her six days imprisoned in the ice.
External References[edit]
The heading photo is image No 66394 from the Queensland Digital Library which is stated as free of copyright restrictions.
Angelfire Website: Passengers arriving at Port of Bluff 15 Sep 1863 Angelfire
Encyclopaedia Peninsular: Alhambra
Contributors[edit]
Original entry by SN Member Banjobee
Additional material and photo added by Benjidog based on this SN thread: Alhambra which included contributions from SN members Ruud, Marconi Sahib, Bruce Carson and Richard Maskiell