Narrative by Alistair Macnab; Edited by Fred Henderson
Contents
1 A 20th Century Perspective of a British Ocean Shipping Company
2 Some Wartime Tales
3 The Immediate Post-War Fleet
4 The Early-1950s Build Programme
5 Bibliography
6 Photographs
A 20th Century Perspective of a British Ocean Shipping Company[edit]
Andrew Weir - Lord Inverforth
Andrew Weir was born in Kirkcaldy, Scotland on 24th April 1865 and after an education in the town's High School he joined a local bank. In 1885 he moved to Glasgow where he briefly joined a shipowner's office before establishing his own firm - Andrew Weir & Company, to purchase the 24 year old sailing ship Willowbank. Weir's company was remarkably successful during the latter years of the 19th Century; prior to the events covered in these Articles.
In 1896 Andrew Weir moved to London and began converting his fleet from sail to steam. During the First World War he was asked to produce a report on the commercial organization of the supply branches of the army. Weir recommended the appointment of a Surveyor-General of Supply, with a seat on the Army Council, to take on the task of supplying the army with all its stores and equipment other than munitions. His recommendations were accepted and he was given the job.
In January 1919, after the war had ended he was appointed Minister of Munitions to close down the supply operation and dispose of unwanted materiel. He remained in office until March 1921. For his services Weir was raised to the peerage, as Baron Inverforth, of Southgate in the County of Middlesex, and received the American Distinguished Service Medal.
Inverforth continued to go to his shipping company offices four days a week, into his ninety-first year. He died at his home in Hampstead on 17 September 1955. During his long period in office he created an unusual, major British shipping company; its routes covering the World, but its ships rarely touched British ports, except to return for special surveys or major overhauls.
For practical and technical reasons, the Articles covering the company's 20 Century history are presented in the following parts: -
Part 1 - The transition from sail to steam, then to motorships
Part 2 - The Inter-War Years
Part 3 - Bank Line at War & Post-War Rebuilding
Part 4 - Backing the Multipurpose Ship Concept
Part 5 - The Varying Fates of the Liner Services
Part 6 - Bank Line and British Shipbuilding
Part 7 - The end of Bank Line's Multipurpose Ship Liner Services
Part 8 - The Sailing Ship Fleet in the 19th Century
Part 9 - Early 20th. Century Developments: Basrah, Hong Kong, and Rabaul
Part 10 - United States and Mexico: Western Hemisphere Developments
Part 11 - Participation in the Petroleum Industry
Part 12 - Passenger Ships
Part 13 - Bank Line London
Part 14 - The Bank Line and the British Merchant Navy
Some Wartime Tales[edit]
Stories told of wartime exploits of Bank Line ships and seafarers have been recorded elsewhere and it is not the intention of this publication to detract from any of the published exploits, tragedies or remarkable survivals of the ships and individuals that came through World War II and became legends in their own time.
What follows here are just a few of the stories that were handed down to post-war shipmates. The accuracy of some of the narratives might be questionable, having been subjected to repetition and enhancement to make a good tale even better but the stories like all good stories are based on true events and are repeated here as passed down to the enthralled audiences gathered at Smoke-Os or during yarning sessions seated on top of hatch covers at some glorious tropical sunset in the South Seas.
t.s.m.v."Springbank" / HMS "Springbank"
The cargo ship "Springbank" was the last of the "Inverbank" Class built at Govan on the Clyde in 1926. Her first voyage was on the Round-the-World service and for the first fourteen years, she clocked up over 700, 000 miles taken her turn on most of the Bank Line's liner and tramping trades. The "Springbank"s last voyage for Bank Line was on the Bay of Bengal - West African service after which she was directed to Birkenhead on the Mersey for conversion to HMS "Springbank", an AA Catapult Vessel in November 1939 on demise charter.
Photo 1:
Springbank
Armaments were two twin 4" HA/LA guns fore and aft, one Fairey Fulmar fighter plane mounted on a catapult for launching abaft the funnel and a range of depth charges located over the counter stern. The actions that lead to this gallant ship's demise have been related by Brian Lucy of the Bank Line London office:
"The convoy, having been spotted by an enemy Condor aircraft which had been chased away by "Springbank"s Fulmar was now without air support as the Fulmar had only enough fuel to make Gibraltar and departed the area. The Condor's role had been to locate the zig-zagging convoy and report its position to the enemy submarines in the vicinity and no fewer than eight German and Italian submarines gathered to shadow the convoy and wait for opportunities to inflict damage.
Photo 2:
A Fairey Fulmar Mk 1
"One of the early ships of the convoy to be torpedoed was the commodore ship, s.s. "Avoceta" (Yeoward Line). Out of 168 passengers and crew on board, only 28 were saved and out of the 25 ships that left Gibraltar, only sixteen arrived at their destination.
"The "Springbank" was hit by two torpedoes on the port side, one forward and one aft taking down the two propellers but other than listing badly to port, she did not sink due to the holds being full of buoyancy drums. Nevertheless, "Springbank" was eventually abandoned by the crew in severe weather and picked up by other naval escorts. HMS "Springbank" was finally sunk by shells and depth charges from HMS "Jasmine" it being found impossible to take her in tow or to attempt salvage more than 500 miles from land."
This was the sort of situation that befell merchant vessels in and out of convoy during the war years.
m.v."Inversuir"
Another story told was of the "Inversuir" one of the Inver Tankers that was on passage from Stanlow to Aruba in ballast when apprehended by a surface German submarine firing a warning shell. The Master indicated by Aldis lamp that the ship was Danish and had a large Danish flag painted on the ship's side to denote neutrality. The German Captain was, however, not fooled as he had previously worked at Bremer Vulcan in Vegasack and had been present when the "Inversuir" was handed over to Andrew Weir in November 1938! The crew were ordered into the lifeboats and "Inversuir" was dispatched by gunfire without loss of life.
t.s.m.v."Lossiebank"
The "Lossiebank" survived the war but it was a near thing. As told by K.R.Dagnall, Lloyd's Surveyor at Folkstone in Kent, whilst serving as Junior Engineer aboard her under the command of Captain Holbrook, she suffered from engine room defects after leaving Suda Bay in Crete with 2,000 troops on board (part of the 1st. Armoured Brigade Group, which had been badly mauled in Greece) and broke down when in convoy. Signaling to the convoy escort that she would be ready to resume in 15 minutes, the Commodore replied that if she wasn't under way in ten minutes, the troops would be disembarked and "Lossiebank" sunk by gunfire! As if by magic, the main engines were re-activated within the allotted time, and although the convoy was heavily bombed by five Italian bombers from Rhodes and the ship straddled by bomb bursts, t.s.m.v. "Lossiebank" emerged comparatively unscathed and sailed on until 1962 when she went for breaking up in Japan.
Photo 3:
Lossiebank
s.s."Teviotbank" / HMS "Teviotbank"
Captain J. Kemp MBE has related that the s.s. "Teviotbank" had a wonderful war record and surpassed herself as a Major War Vessel, laying over 20,000 active mines in practically every theatre of the war - Home Waters, Bay of Bengal, Singapore Straits, Red Sea, Malta, Italy and North Africa. The ship had been handed over to the Admiralty and sailed as Minelayer, HMS "Teviotbank", with Bank Line officers, temporarily seconded as RNR, and naval crew. Fortunately she survived the war to be sold out of the fleet in 1955.
t.s.m.v."Speybank" / "Doggerbank"
This last story, of very many others that will have to wait for another day, relates to the Bank Boat that was operated by the enemy! T.s.m.v."Speybank" was captured by the German auxiliary cruiser "Atlantis" in the Indian Ocean in 1941 and the officers and crew transferred to the tanker "Altmark" as prisoners of war and eventually interned in the Sand Bostel POW Camp near Hanover, Germany. Among prisoners were Bank Line personnel (eventually Superintendent Captain) Eady and engineer, George Duncan, until 1945.
But the main part of this story is the ship. "Speybank" was re-christened "Doggerbank" (A fine touch of Teutonic humour here!) and was sent to southern waters to waylay unsuspecting ally ships passing round the Cape of Good Hope. With a recognizable "Bank Line" profile and one of the 18 "Inverbank" Class, she was unsuspected for many months despite having a number of "close calls" with allied naval ships that challenged her. Bank Line ships were well-known to be regularly passing round the Cape en route from India to South America and "Doggerbank" raised no suspicion as she passed herself off as one or other of her sisters. After several months of laying mines in these busy waters, "Doggerbank" was ordered to the Far East and returning to Germany with cargo she was torpedoed and sunk in error by U43 in the North Atlantic in 1943 having continued to fool even her new masters that she looked like a Bank Line ship and was fair game!
The Immediate Post-War Fleet[edit]
In 1945, at the end of WWII, only 26 pre-war ships remained in the Bank Line fleet after war losses of 25 units, These were: "Gujarat", "Luxmi", "Isipingo" and "Inchanga" of the passenger-carrying fleet, nine of the 24 original "Inverbank" Class, a couple of Workman Clark steamers and all four of the same yard's motorships of the "Irisbank" Class, and a few steamers and motorships from the NE of England.
The last pre-war order of ships to be built for Bank Line were the motorships "Araybank" and "Shirrabank" from Harland & Wolff in Belfast with only the latter being a war survivor. Another interesting survivor was the "Cabarita" a second-hand cargo ship employed on the Indian African Line and once one of Howard Smith's Australian fleet.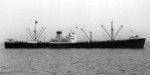 Photo 4:
Shirrabank
If we add the four motorships from Doxford's delivered in 1944 and the one 'Empire' standard ship from Readhead's in 1945, the fleet standing at the end of hostilities was 31 units.
These were:
Inverbank" Class: t.s.m.v."Inverbank";"Glenbank";"Comliebank";"Clydebank;"Forresbank";"Nairnbank";"Levernbank";"Myrtlebank" and "Olivebank";
Workman Clark's:"Deebank" and "Forthbank" (quad. exp. steamers) and "Irisbank";"Lossiebank;"Taybank" and "Tweedbank" (twin-screw motorships);
"Ernebank" and "Shirrabank", Harland's Belfast-built motorships;
"Eskbank and "Ettrickbank" Doxford-built motorships;
"Tynebank" and "Teviotbank", Readhead, triple exp. Steamships;
t.s.m.v. "Isipingo", "Inchanga", m.v "Gujarat", Luxmi" and s.s. "Cabarita";
The wartime Doxford-built motorships: "Roybank";"Weybank";"Meadowbank" and "Moraybank";
and the 'standard Empire' coal-burning s.s. "Hazelbank" (ex "Empire Franklin") sold in 1957.
Quite a mixed bag: Six steamships (Dee/Forth/Tyne/Teviot/Hazel/Cabarita) and 25 motorships.
In 1946, two ships were added: the steamers "Birchbank" (ex "Dakarian") sold in 1952 and "Hollybank" (ex "Empire Southey") sold in 1957, but in 1947, the fleet was strengthed by no fewer than 13 ships incorporating the 12 "Sam" Boats or "Liberty" Ships:
Photo 5:
Liberty Ship, s.s. "Corabank"
"Corabank";"Edenbank";"Ericbank";"Ivybank";"Kelvinbank";"Maplebank;"Marabank";"Rowanbank";"Springbank";"Tielbank";"Titanbank" and "Willowbank" and the first of the newbuildings: m.v."Eastbank" from Doxford's, almost a continuation of the pre-war design in appearance but with more sophisticated cargo spaces that included a second tween deck forward of the engine room, two reefer chambers and six deeptanks with an eye to being more suited for liner services. This ship was the forerunner of what was to be the "Compass Point Class"
Photo 6:
m.v."Southbank"
1948 saw the continuation of the Doxford newbuildings: m.v. "Southbank" and "Westbank" entering the fleet but even that was considered to be insufficient strength in view of the large number of ships over 20 years old. For this reason three further standard steamships were added from NE yards, s.s. "Etivebank", "Lochybank" and "Shielbank" obtained at favourable prices since they were coal-burning reciprocal-engined steamers and as many shipowners were now requiring 'liner' type motorships or turbine-driven steamers. The fleet strength was now at 51 units at the end of 1948.
Lord Inverforth was quoted as saying that the price of purpose-built newbuildings was bound to decline once all the 'standard' ships had found buyers and shipyards would be looking for work as had happened after WWI.This did not happen as British shipyards were kept busy building passenger ships and cargo liners for British and overseas owners and were proved to be late to the concept of building ships in series of standard design even during the boom years of the 1940s and 1950s when the USA had shown that series building was the way to go.
But in the 1960s and 1970s, British shipyards had entered another period of rapidly decling fortunes
The Early-1950s Build Programme[edit]
Between 1952 and 1955, ten ships were disposed of: Nairn/Olive/Dee/Forth/Cabarita/Tyne/Etive/Lochy/Birch/Holly with one lost to shipwreck, the Liberty ship: "Kelvinbank" at Ocean Island. These were mostly steamships with the exceptions of t.s.m.v's "Nairnbank" and "Olivebank" (built 1925 and 1926 respectively). Interestingly, the "Etivebank" and "Lochybank" (coal burning steamers) had only 7 and 6 years respectively in Bank Line
Fleet strength was now 40 units when the first of the six "Beaverbank" Class came out from Harland and Wolff, Belfast in 1953. These were "Beaverbank";"Nessbank";and "Fleetbank" in 1953 and "Cedarbank";"Foylebank" and "Laganbank" in 1955. But this addition of six newbuildings was cancelled out in 1956/1957 with the disposal of the same number from the existing fleet: Teviot/Hazel/Holly/Gujarat/Maple/Willow/Shiel, all steamships with the exception of m.v."Gujarat".
Photo 7:
m.v."Laganbank""
Thus, before the onset of the major newbuilding programme starting in 1957, the Bank Line fleet stood as follows:
m.v."Luxmi" (1924);
t.s.m.v. "Inverbank", "Glenbank", "Comliebank", Clydebank", "Forresbank", "Levernbank and "Myrtlebank" (1924 - 1925);
t.s.m.v. "Irisbank", "Lossiebank", "Taybank" and "Tweedbank" (1930);
t.s.m.v. "Isipingo" and "Inchanga" (1934);
m.v. "Ernebank", "Shirrabank" (1937-1940);
m.v. "Eskbank", "Ettrickbank" (1937);
m.v. "Roybank", "Weybank", "Meadowbank", "Moraybank" (1944 - 1945);
s.s. "Corabank", "Edenbank", "Ericbank", "Ivybank", "Marabank", "Rowanbank", "Springbank", "Tielbank and, "Titanbank" (acquired: 1947);
m.v. "Eastbank", "Southbank and "Westbank" (1947 - 1948);
m.v. "Beaverbank", "Nessbank", "Fleebank", "Cedarbank", "Foylebank", "Laganbank" (1953 - 1955).
All were motorships with the exception of the nine Liberties of the "Corabank" Class for a total of 40 units.
The big expansion programme was about to take place from 1957 onwards. Again, this was Inverforth's philosophy of building ships during a shipbuilding downturn but this time around, Harland's still produced 10% by gross tons of all British shipbuilding but the North-East of England, now delivered no less than 46% of all output. The ships would be larger and faster and would eventually comprise 21 units from Doxford's in Sunderland, 17 units from Harland & Wolff in Belfast and 2 units from Swan Hunter's on the Tyne. These 12000 dwt tween-deck ships in the full scantling condition would be added to the other post-war newbuildings of 3 from Doxford's (Eastbank/Compass Point Class) and 6 from Harland & Wolff (Beaverbank Class) of 9000 dwt. as open shelter-deckers for a total of 49 motorships. All these ships were built in series to a standard Bank Line design based on trading requirements in cooperation with the builders' design staffs.
Even then, a series of 15000+ dwt motorships would follow from 1963 onwards, comprising no fewer than 36 units from Belfast, Sunderland and South Shields that would signify the peak and the decline of British shipbuilding and multipurpose ships because the divergence of the design of tramp and liner ships was finally taking place with shippers of tramp cargoes now preferring bulk carriers of at least 25,000dwt. and liner type ships sporting more sophisticated cargo-handling gear and multiple hatches for unit load cargo, the fore-runner of containerization.
Nevertheless, a 15,000 dwt multipurpose tweendecker was seen as a useful compromise and the Bank Line boast that they could get an empty Bank Boat to a charterer at any port in the world within four weeks or sooner was still a distinct marketing advantage. In-house ship brokers: Chadwick Weir, were in a very strong position to obtain charters when necessary and there were still dry bulk 'parcels' of from 2,000 to 5,000 tons that were too small for bulkers for which geared ships were still required.
Bibliography[edit]
A complete Bibliography for all of these Articles is given at the end of
Part 7
Photographs[edit]
The photographs used to illustrate this article are from Wikimedia Commons and are in the public domain or the Ships Nostalgia Galleries, which are available for use in the Directory. The individual photographs used in Part 3 have been provided as follows: -
Frontispiece - Wikimedia Commons
Ships Nostalgia - Brent Chambers
Ships Nostalgia - Wikimedia Commons
Ships Nostalgia - Brent Chambers
Ships Nostalgia - Brent Chambers
Ships Nostalgia - Tomvart
Ships Nostalgia - Brent Chambers
Ships Nostalgia - Mr W Kane
Article written and compiled by Alistair Macnab
Formatting and presentation only, by Fred Henderson
© RVW Productions LLC, 2010
To move to the next Part, simply click on the Part 4 Box below.