Narrative by Alistair Macnab; Edited by Fred Henderson
Contents
1 A 20th Century Perspective of a British Ocean Shipping Company
2 Andrew Weir & Company Limited's Principal Subsidiary Companies in 1983
3 Liner Services Consolidation
4 Formation of the Bank & Savill Line
5 Westbound Round-the-World Service (SoPac)
6 Bank Line Transatlantic Line
7 The Bank Line USA-Africa Service
8 The end of multipurpose ship Liner Services
9 Bibliography
10 Photographs
A 20th Century Perspective of a British Ocean Shipping Company[edit]
For practical and technical reasons, the Articles covering Bank Lines's 20 Century history are presented in the following parts: -
Part 1 - The transition from sail to steam, then to motorships
Part 2 - The Inter-War Years
Part 3 - Bank Line at War & Post-War Rebuilding
Part 4 - Backing the Multipurpose Ship Concept
Part 5 - The Varying Fates of the Liner Services
Part 6 - Bank Line and British Shipbuilding
Part 7 - The end of Bank Line's Multipurpose Ship Liner Services
Part 8 - The Sailing Ship Fleet in the 19th Century
Part 9 - Early 20th. Century Developments: Basrah, Hong Kong, and Rabaul
Part 10 - United States and Mexico: Western Hemisphere Developments
Part 11 - Participation in the Petroleum Industry
Part 12 - Passenger Ships
Part 13 - Bank Line London
Part 14 - The Bank Line and the British Merchant Navy
Andrew Weir & Company Limited's Principal Subsidiary Companies in 1983[edit]
SHIPPING:
The Bank Line Limited
United Baltic Corporation Limited
with MacAndrews & Co., Ltd and Initial Metals Engineering Ltd.
Chadwick Weir & Company Limited
United Baltic Corporation GmbH (Germany)
INSURANCE UNDERWRITING:
Andrew Weir Insurance Company Limited
The Forrestdale Insurance Company Limited
INSURANCE BROKING:
Andrew Weir London Limited
INVESTMENT DEALING PROPERTY and FINANCE:
Andrew Weir Finance Company Limited
Loncala Phosphate Company (USA)
INVESTMENT HOLDING:
Andrew Weir Investment Company Limited
NUMISMATISTS, MEDALISTS and FINE ART DEALERS:
Spink & Son Limited
COMMODITY TRADING:
United Baltic Corporation London Limited
United Baltic Corporation (USA)
TRAVEL & TRANSPORTATION:
Bank Line Travel Limited
ASSOCIATED COMPANIES:
Boyd Weir & Sewell Inc (USA)
The Bank & Savill Line Limited
RBM Corporation Inc (USA)
W. Hazeltine Associates Limited
Tomson Bull & Company Limited
Liner Services Consolidation[edit]
During 1973 and 1974, the six units of the "Corabank" Class were delivered from Swan Hunter Shipbuilders on the Tyne. These ships were intended for the U.S. Gulf-Australia service outbound and for return to the USA and North Europe via the South Pacific Islands, fondly known as the Copra Service but now carrying the label "SoPac Service". The ships were:
m.v. "Corabank" Delivered 1973; Sold 1984; Scrapped 1993
m.v. "Meadowbank" Delivered 1973; Sold 1988; Scrapped 2000
m.v. "Moraybank" Delivered 1973; Scrapped 1988
m.v. "Forthbank" Delivered 1973; Scrapped 2002
m.v. "Ivybank" Delivered 1974; Sold 1998; Scrapped 2002
m.v. "Clydebank" Delivered 1974; Scrapped 2000
Photo 1:
Clydebank" before container stows were extended outwards to ships rail.
By the second-half of the 1970s the Bank Line's liner services were mostly centered on the U.S. Gulf and incorporated regular sailings to and from the UK/Continent, to and from South Africa and, of course, the established one-way Gulf - Australia and the Gulf-New Zealand services outwards which were going strong and operated mainly by the "Corabank" Class which also provided an inwards service to the USA from the South Pacific Islands.
Photo 2:
Meadowbank" with container stows extended to ships rail.
Nevertheless, it was decided that the Australia and New Zealand services need to be formed into a 'loop' with a return service to the Gulf. The eastbound cargoes of coffee, cocobeans and vegetable oils from New Guinea and the Pacific Islands that had been developing to the USA were not growing as had been hoped and, anyway, the discharging range of ports was very time-consuming to service incorporating as it did, two or three ports out of San Francisco, Houston, New Orleans, Philadelphia, New York or Halifax (NS) on ships that were then proceeding to Europe. There was a lot of extra steaming for not much reward. But when a regular service is in its development stage, the shippers or the cargo consignees have to be accommodated especially with commodities that are to be traded through commodity exchanges as green coffee and cocoa beans are. The "Corabank" Class proved to be very useful for this extended 'loop' as their speed and cargo flexibility were ideal.
Photo 3:
Ivybank at Noumea, New Caledonia
So, although this eastbound business had some future potential, it was decided that it would be better if a return service could originate in Australia and/or New Zealand back to the Gulf. This would become an entirely separate service from the Islands which henceforth was to become and 'out and back' round voyage taking in the UK/Continent Direct Outwards service to New Guinea and the homewards Copra business now known as the SoPac Service.
Photo 4:
Ivybank alongside at Kimbe, New Britain Island, Papua New Guinea, loading palm nuts
Formation of the Bank & Savill Line[edit]
For some time, the British, Shaw Savill and Albion had been operating their own Gulf-Australia and New Zealand service using the smaller units of their otherwise fast-diminishing fleet. Outward bound from the Gulf, they were not doing particularly well but northbound, they had the support of the New Zealand Dairy and Meat Boards for reefer cargoes to Central America and the Caribbean.
This looked like a promising partnership and in 1977 the Bank and Savill Line was formed to be run from London where the two principals were located but with USA representation at Bank Line's Houston office.
As mentioned at the end of
Photo 5:
Shaw Savill's container ship Dunedin
The three ships were to provide a two-way monthly full container service with additional Bank Line ships filling in as additional southbound sailings to pick up the remaining bulk, project and breakbulk cargo that was still moving.
The "Willowbank"s details were:
| | |
| --- | --- |
| Length Overall: | 555 ft. |
| Length bp: | 525 ft. |
| Beam: | 87 ft. |
| Gross Tonnage: | 18,236 GRT |
| Deadweight: | 16,511 tonnes |
| Main Engine: | Single screw bridge-controlled Kincaid Burmeister & Wain 6 cylinder 6K90GF developing 20,500 BHP metric @ 114 rpm |
| Service Speed: | 19 knots |
| Alternators: | 4 x 900 kw Allens 8 S12F; 1 x 432 kw Allens 4 S12F |
| Bridge Control: | Richardson & Westgarth |
| Tank Capacities: | Fresh Water 300 tonnes; Fuel Oil 2,829 tonnes; Diesel Oil 460 tonnes |
| TEU Capacity Below Deck: | 426 incl. 308 insulated reefer |
| TEU Capacity On Deck: | 342 incl. 50 integral reefer |
| Total TEU Capacity: | 768 incl. 358 teu reefer |
| Deck Cranes: | 4 x 36 ton SWL Hagglund hydraulic |
| Crew: | 33 |
Container cargo was designed on the 20 x 8 x 8 ft. module favored at that time by the container consortiums and the antipodean producer boards for the insulated boxes. The boxes were of the 'porthole' type and were served by the ship's reefer machinery via clamp-on connections in their stowed positions within the insulated holds.
Photo 6:
Willowbank's below deck container stowage. Note: the refrigerated input and exhaust terminals on the right-hand side of the photograph to provide cold air to the insulated containers' 'portholes'
This arrangement was well suited for the northbound leg but proved unsuited for the southbound leg because southbound shippers overwhelmingly preferred the 40 foot container which was 8' 6" high and could only be carried on deck although there was provision made in No.5 hold (abaft the accommodation block) for 40s to be loaded below deck by means of an adjusting cell guide section.
Marketing was rendered most difficult by the necessity to encourage U.S. shippers to use 20 ft. units. What's more, the cargo had to be clean and not compromise the northbound "food grade" reefer cargo with the result that a great many empty 20 footers were carried southbound or used for pier-to-pier traffic with stuffing and stripping at the Line's expense.Northbound, very many empty 40 footers were returned to the USA when no shippers could use these units for the types of cargo on offer..
Northbound, the discharging ports were Manzanillo (Mexico), Acajutla (El Salvador), Puntarenas (Costa Rica), Cristobal (Panama Canal), Maracaibo (Venezuela), Willemstad (Curacao), La Guaira (Venezuela), Port of Spain (Trinidad), Bridgetown (Barbados), Santo Domingo (Dominican Republic), Kingston (Jamaica), Vera Cruz (Mexico), New Orleans and Houston (USA),
It soon became necessary to add additional ships to the reefer northbound leg as the schedule could not be maintained on a strict 90 day round trip due to the number of ports in the loop. Accordingly, a couple of existing Bank Line ships were adapted for carriage of insulated reefer containers below decks to assist in the integrity of the service which was fully operational by 1980.
"Willowbank" was sold out of the fleet in 1988 for further trading. She was in the news in 2003 as the "Sea Elegance" when on fire off Durban but was saved and lived on finally to go to the scrappers in 2009.
Westbound Round-the-World Service (SoPac)[edit]
In the meantime, the Bank Line's only Northern European-based liner service, the Eastbound direct to Papua New Guinea service via Suez had been discontinued and replaced by a Westbound Round-the-World service via Panama and Suez which was augmented, first by a joint service arrangement with Columbus Line, then by the purchase of four second-hand Finnish-built, ice-strengthened breakbulk/container/ro-ro ships in 1995. These were the Soviet standard SA15 Class built in 1983-1985 designated the "Norilsk" Class.
The route was:NW Europe - Panama Canal - Papeete - New Zealand - French Polynesia - Solomon Islands - Papua New Guinea - Indonesia - Eastern Malaysia -Singapore - Suez Canal - NW Europe.
The ships were:
"Foylebank" ex-"Tiksi"
"Speybank" ex-"Okha"
"Arunbank" ex- "Vuosaari"/"Bratsk"
"Teignbank" ex- Nikel"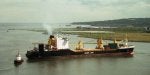 Photo 7:
Foylebank leaving Belfast after drydocking
Photo 8:
Teignbank
These second-hand, formerly Russian owned and manned ships were bought by Bank Line in 1995 and substantially reconfigured to suit the South Pacific service. Fitted with bulbous bows to replace the icebreaker hull and cargo deeptanks which were installed for coconut/palm oils between hatch openings, they were introduced into the SoPac Service and eventually relieved the six "Corabank" Class ships, which were then assigned to other duties. The additional feature of the ro-ro ramp on the starboard quarter for rolling cargo was a new facility on the route, to take care of the private automobiles and agricultural equipment, which were always moving as outbound cargo from Europe.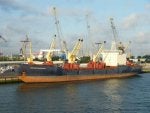 Photo 9:
An unmodified Russian sistership, Anatoliy Kolesnichenko, showing the class's original icebreaker bow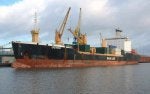 Photo 10:
Speybank in Hull displaying the bulbous bow fitted to the Bank Line owned vessels in this class
Photo 11:
Speybank in Dunkirk with her quarter-ramp lowered onto the quay
But in 2006, a marketing arrangement in the Pacific area was struck with the Swire Group and the four ships integrated into Swire Shipping's extensive schedules of regional services. Although still managed by Bank Line, they were each set up in one ship companies owned by Andrew Weir but renamed by Swire's to reflect the geographic areas served:
"Gazellebank" ex- "Foylebank"
"Mahinabank" ex- "Speybank"
"Tikeibank" ex- "Arunbank"
"Boularibank" ex- "Teignbank"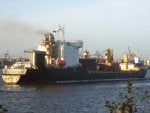 Photo 12:
Gazellebank (ex Foylebank, ex Tiksi) at Hamburg with Swire funnel colours and starboard quarter ro-ro ramp in the raised position
These ships had a deadweight of 22,900 DWT on a gross tonnage of 18,627. Their length was 174 metres and beam: 24.5 metres. Service Speed was 15 knots. In addition to the ro-ro ramp, cargo gear consisted of 2 x20 tonnes SWL cranes, 2 x 40T SWL and 1 x 25T SWL cranes. 300 teu container capacity and 7,000 tonnes of deeptank space. Swire eventually chartered a fifth sister-ship to the converted Bank Line four when they took over the entire Bank Line Round-the-World Service in 2007. This was in an effort to maintain schedule integrity but this extra ship retained her Russian identity.
Despite encroaching containerization in all major and secondary trade routes it was felt that a multipurpose service still made sense with numerous calls to relatively unsophisticated island ports and basic bulks and neo-bulks such as copra, palm oil, lumber, coffee and cocoa beans on the homeward leg.
Bank Line Transatlantic Line[edit]
For many years, Bank Line had been positioning ships to the U.S. Gulf to load for Australia and New Zealand either by light ship passage from the UK/Continent or by means of revenue-earning time charters outwards to the Caribbean Islands, Venezuela and Colombia with Harrison Line, Grancolombiana, KNSM or Venezuelan Line. This last arrangement meant that at the termination of the time charter, Bank Line ships were no more than four or five days from New Orleans which was most convenient. But if the berth was already taken by another Bank Line ship coming off the WCSA from the India-Chile Line then an intermediate bulk sugar cargo could always be found from the Dominican Republic to New Orleans arranged by Bank Line's New York cargo brokers, Boyd, Weir & Sewell Inc., to fill in time until the next Gulf loading to Australia or New Zealand was open.
But in order to simplify matters and to make better date keeping schedules at the Gulf loading ports, it was decided to offer Bank Line loading opportunities at Glasgow and Avonmouth to the U.S. Gulf ports of Houston and New Orleans via Nassau in the Bahamas; this last named destination having recently been abandoned by Royal Mail Lines as they containerized their own liner services.
A two-way service would be offered by chartered-in container-friendly tonnage augmented by outbound only Bank Line ships headed to the Gulf to load for Australia and New Zealand. These charter ships were:
"Testbank" ex- "Charlotta" (1979 - 1981)
"Tielbank" ex- "Caroline" (1979 - 1981)
"Tynebank" ex- "Sandra Wesch (1979 - 1980)
Photo 13:
The chartered Testbank
Photo 14:
Caroline on charter to Bank Line as Tielbank
Photo 15:
Tynebank; the third ship chartered for the Transatlantic service
The Bank Line USA-Africa Service[edit]
Having last placed a ship on the USA-South Africa berth in 1939, Bank Line revived interest in the old service by introducing four of the new "Fish " Class in 1980 to run monthly, calling at the U.S. Gulf and East Coast and sailing direct to Durban. They had recently chartered in, then purchased the "Olivebank" (ex-"Nara" of Chargeur Reunis) to re-start this service but it was soon found prudent to come to a business arrangement with Safmarine and form a joint service called SafBank Line. An increased frequency of sailings from monthly to fortnightly was necessary to combat Mediterranean Shipping Company's (MSC) container service.
The end of multipurpose ship Liner Services[edit]
Two of the displaced "Corabank" Class ships: "Clydebank" and "Forthbank" in 1996 were for a time employed on a Bank-Ellerman Service between South Africa and the Arabian Gulf, Pakistan and India but this breakbulk/container service did not prosper and was abandoned in 2002. This was to be the fate of all of these 'new' multipurpose and combination ship initiatives in the face of overwhelming containerization.
First to go was the Bank Line Transatlantic Service. To continue the service the ship charters had to be renewed and the new higher rates could not be supported by the revenue generated. Next the SafBank Line went full container, Bank Line dropped out and Safmarine joined up with MSC off the East Coast only. Safmarine (later its parent Maersk) would eventually mount an occasional breakbulk service out of the Gulf to West Africa principally for the oil industry.
But the Bank and Savill Line didn't survive either. The Caribbean and Gulf ports were abandoned and the west coast ports of the USA and Central America were selected for a joint operation with Australia New Zealand Direct Line (ANZDL). The U.S. Gulf had for many years been a steady revenue earner for Bank Line but by 1984 all was gone although the "Willowbank" continued to operate until sold to the Blue Star group in 1988.
Finally, Swire's Round-the-World Westbound service suc***bed to the general trade downturn of 2009 and was abandoned in the spring of that year, the four "-banks" going to the shipbreakers.
Bank Line had always been a shipping company that was operated differently from conventional British shipping practice. An operating philosophy of managing a large fleet of similar ships suitable for tramping and liner voyages was unique to the company and it had fared well throughout the 20th Century with this philosophy. The first Lord Inverforth was a very aggressive and successful entrepreneur and many of his business ventures provided good connections for his shipping company. Over the years, friendly relations had been forged with many of the world's leading businessmen who controlled prime commodities, in many parts of the world- oil, foodgrains, fertilizer -as well as in ship building and ship owning. All these links had merged into or suggested liner services whenever possible and multipurpose tweendeckers were quite suitable to sustain regular cross services between overseas countries. Bank Line were not averse to joining Shipping Conferences when the opportunity arose but they were not aggressive members once accepted and usually were content with recognition by the other members and confined themselves to their allocated or chosen niches within the Conference body. It is interesting to note that they usually signed onto a Conference as Andrew Weir and when the members voted it was alphabetically with Weir usually casting the deciding vote!
The late Roy Weir, Lord Inverforth III, told the author that he was very proud of the fact that his British passport had him down as a "Shipowner". To him it was a very rare 'club' that had as its members quite the most interesting and diverse group of the world's movers and shakers.
But the prospect of substantially enhancing a family fortune from ocean shipping was waning and respected money managers were pointing out more lucrative investments to their clients. Financial consideration had to be given to other branches of the extended family in a family company who were not always content to receive only dividends and profit sharing. Anyway, container shipping involved a huge investment of capital and the entrepreneur and buccaneer spirit of the first Lord Inverforth was no longer around.
Nevertheless, Bank Line has left its mark in the annals of British shipping. It's quite true that they were not ready to accept containerization. In fact, when being invited to join the ACT container consortium, Lord Inverforth (Morton Weir) was heard to remark that there was nothing in the proposition for Bank Line. "They just want our money!" In the end, a belated and tentative recognition of containerization was not enough and the fourth Lord Inverforth (another Andrew (Peter) Weir, son of Roy Weir) was titular head of the family along with his uncle, the Hon. Vincent Weir, when the doors finally closed on Bank Line. Today, Andrew Weir Shipping (AWS) is in the ship management business and is part owner of the consortium, Foreland Shipping, which owns six ro-ro ships of advanced design. They also manage the St. Helena Shipping Company for the St. Helena Island community and operate the passenger-cargo ship RMS "St. Helena" to connect this remote island community with South Africa and the United Kingdom.
It also must be recognized that Bank Line had supported the British shipbuilding and engine-building industries through thick and thin, often to the financial advantage of the Line, it's true, but nevertheless to the sustainability of what was a key industrial sector in its day. Bank Line never ordered newbuildings abroad. Great shipbuilding and engineering names, such as Harland and Wolff, William Doxford, Swan Hunter, Readhead's and Workman Clark have faded or are fading into the great historical tapestry that once supported British-flag dominance of ocean transportation and held worldwide British commercial and political interests, including Bank Line's, together. During the major slump years of 1923, 1926, 1931-1937, 1963 and 1968 Bank Line had been supporting British shipbuilders in stalward fashion. It could be said that the first Lord Inverforth's philosophy of building ships in counter-cyclical times had been amply demonstrated and that Weir's had been unerring in predicting the market.
Politics hastened the demise of shipbuilding in Britain. A Labour Government nationalized the industry in 1977, with the main aim of maintaining maximum employment in the areas that elected Labour Members of Parliament. All of the shipyards were retained as individual entities, with very little rationalization. Losses soared, but annual subventions from the Government were primarily used to continue the employment of an unsustainably large workforce, rather than making any significant investment to improve efficiency. When a Conservative Government was elected it followed European Community directives to end government funding of excess shipbuilding capacity and quickly disposed of the entire industry, using EEC grants to bring other industries to the worst effected areas. Only the warship builders survived, but even these were hit by the end of the Cold War and the subsequent reduction in defence expenditure.
Photo 16:
The end of shipbuilding at Wallsend. Swan Hunter's ancient floating crane and its two largest berth cranes are loaded into its floating dock prior to their departure to an Indian shipyard. The other old cranes, the fabrication sheds and the remaining assets are being dismantled and scrapped.
Today, there is something of a resurrection in multipurpose cargo liners of a fresh and exciting configuration, not to be built or flagged in Britain, it seems, as its merchant shipbuilding skills base has been dissipated, and far too late for Bank Line as it sinks into history. It would seem too, that the seamanship and experience of British seafarers and the mercantile enterprises that supported them, which were once the benchmark by which all international merchant shipping was measured against, have also largely been consigned to the pages of nostalgia publications. By 1983, the United Kingdom was in eighth place in the ranks of world shipowners, headed by Liberia, Japan, Greece, Panama, Russia, the USA and Norway with the glory days also consigned to history.
Truly, the sheer excitement and world-wide enterprise that was the hallmark of service in the Bank Line lives on in the memories of those who were fortunate to be a part of the company. The Bank Line story is, in fact, a reflection on the full British Merchant Navy story compressed into one company, predominantly over the 20th Century and chronicling the cataclysmic shift from breakbulk cargo to container operations. Many young men went off to sea dreaming of ascending the ranks to Chief Engineer or to Master or even landing that all-important Superintendent's job ashore in strategic worldwide maritime centres, and fulfilled their dream in Andrew Weir's Bank Line.
Photo 17:
Tenchbank off Hatteras
In time, the stories of ageing ships and outmoded oil engines, unpredictable crews, bilge diving, overworked and underpaid apprenticeships, hectoring Mates and imperious Masters fade away and the recollections of beautiful balmy sunsets over idyllic tropical island paradises at the end of the hard and sweaty working day on deck and in the engine room, in the company of great shipmates with appropriate refreshments to hand, with the lessons learned never to be forgotten and the interesting people encountered afloat and ashore, all remain as recollections of lives very well lived.
Photo 18:
The Master and Officers of Fleetbank in Penang in 1980
Bibliography[edit]
Books and publications consulted include: -
"Seventy Adventurous Years" 1955 Journal of Commerce, Liverpool.
"Bank Line and Andrew Weir & Company" 1985 H.S. Appleyard, World Ship Society, Kendal.
"Merchant Fleets. Andrew Weir Shipping (AWS)", 2002 N.L. Middlemiss, Shields Publications Ltd.,Gateshead.
"Newsletters" Brian Lucy, Editor
"The Bank Line " Magazine, 1975 - 1985, T.J. O'Connor Editor. London.
Photographs[edit]
The photographs used to illustrate this article are from the Ships Nostalgia Galleries, which are available for use in the Directory. The individual photographs used in Part 7 have been provided as follows: -
Ships Nostalgia - Brent Chambers
Ships Nostalgia - japottinger
Ships Nostalgia - yvon
Ships Nostalgia - rabaul
Ships Nostalgia - Paul Baxter
Ships Nostalgia - Fairfield
Ships Nostalgia - tridentport
Ships Nostalgia - Brian Dodd
Ships Nostalgia - Patalavaca
Ships Nostalgia - Bankliner
Ships Nostalgia - ruud
Ships Nostalgia - Bootsman
Ships Nostalgia - Brent Chambers
Ships Nostalgia - Brent Chambers
Ships Nostalgia - Brent Chambers
Ships Nostalgia - MNEWBY
Ships Nostalgia - mickric
Ships Nostalgia - Iriscable Fairy
Article written and compiled by Alistair Macnab
Formatting and presentation only, by Fred Henderson
© RVW Productions LLC, 2010
To move to an earlier Part, simply click on the Part Box below.