Narative by Alistair Macnab; Edited by Fred Henderson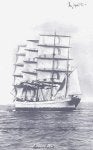 Levernbank
Contents
1 Andrew Weir
2 The Sailing Ship Fleet in the 19th Century
3 Russell & Company, Shipbuilders, Port Glasgow
4 Weir's Sailing Ship Fleet
5 The Steamers
6 Photographs
Andrew Weir[edit]
For practical and technical reasons, the Articles covering Bank Lines's 20 Century history are presented in the following parts: -
Part 1 - The transition from sail to steam, then to motorships
Part 2 - The Inter-War Years
Part 3 - Bank Line at War & Post-War Rebuilding
Part 4 - Backing the Multipurpose Ship Concept
Part 5 - The Varying Fates of the Liner Services
Part 6 - Bank Line and British Shipbuilding
Part 7 - The end of Bank Line's Multipurpose Ship Liner Services
Part 8 - The Sailing Ship Fleet in the 19th Century
Part 9 - Early 20th. Century Developments: Basrah, Hong Kong, and Rabaul
Part 10 - United States and Mexico: Western Hemisphere Developments
Part 11 - Participation in the Petroleum Industry
Part 12 - Passenger Ships
Part 13 - Bank Line London
Part 14 - The Bank Line and the British Merchant Navy
The Sailing Ship Fleet in the 19th Century[edit]
Ocean transport has traditionally been subject to booms and bursts and very much affected by the cyclical nature of the world economies and trade fluctuations. Thus, reliance on the transportation of basic commodities and passengers was the dependable mainstay of 19th Century British shipowners even as steamships were replacing sailing ships.
It was only in 1869 when the Suez Canal was opened and in 1885 when the first shipping cartel for the ocean transport of cargo was formed to control the UK - Calcutta trade that the concept of cargo liner shipping came about. This particular trade route was sufficiently mature and was the mainstay of British-India commerce in respect of two-way traffic for management by "Conference" to be regulated by the ship-owning interests with the cargo interests' acquiescence on the basis of acceptable freight rates, scheduled sailings, and loyalty rebates. Cargoes were manufactured and industrial goods eastbound and jute, tea, gunnies and cotton piece-goods in the westbound direction.
And it was the established reliability of the steam engine that delivered the regularity of service and empowered conferences. Andrew Weir was just entering ocean transportation at this time with a strategy that relied upon building and operating sailing ships and was certainly not in a position to participate in this new concept of managed ocean transportation by steamers as his fleet was a mix of second-hand and purpose-built three- and four-masted sailing ships. In what would become a standard operational practice his new building philosophy was to select mostly one shipbuilder and to order ships in series. This was the case with his selection of Russell and Company of Port Glasgow.
Photo 1:
Cedarbank (1892)
The type of sailing ship chosen by Weir was the recently developed 4-masted barque which was to become the last of the breed of commercial sailing vessels and was more properly called a "Windjammer" as opposed to the earlier "Clipper" sailing ships which were much smaller by virtue of their fine hull form limiting their cargo capacity to around 1000 tons. Windjammers by comparison had a cargo capacity of between 2000 and 5000 tons. Their introduction in 1875 was the last opportunity for sail to challenge steam over the long haul and along the paths of the prevailing winds. Their rig was the so-called "Scottish style" with Royal sails above double top-sails and single topgallant-sails. For example, a barque so rigged, sailing between Australia and Western Europe might outpace an 8 knot steamer via Cape Hornand was not required to utilize some of its precious cargo-carrying capacity with coal and water for the steam engine or to engage additional crew for firemen duties.
Photo 2:
Olivebank (1892)
Some four-masted barques, however, ultimately were fitted with auxiliary power winches to manipulate the running rigging enabling them to sail much closer to the wind and to maintain as much as 15 knots. Crews, also, were smaller than in steamships ranging from 14 to 18 seafarers depending on the number of apprentices carried.
Operationally, these 4-masted barques, were employed in carrying wool or grain, copra or nitrate, lumber or railroad steel rails - cargoes that the steamships were not interested in owing to the remoteness of and time taken for the loading and/or discharging at secondary ports where bunker coal was unavailable or water for the boilers in short supply.
Photo 2:
Beechbank (1892)
The Weir ships typically loaded outwards from North-west Europe (typically Middlesboro' for rails for Southern African railways) to South Africa, made a ballast voyage to Newcastle NSW where coal for Valparaiso was loaded after which a nitrate cargo was obtained back to Europe via Cape Horn. Alternatively, a ballast voyage would be made from Valparaiso around Cape Horn to the River Plate to load a grain cargo for Europe.
Russell & Company, Shipbuilders, Port Glasgow[edit]
This shipyard was to make its reputation by building large wrought iron sailing ships intended for long-haul slow transport of basic commodities, just the sort of vessel that Andrew Weir was looking for. The Partners in Russell's were Joseph Russell (1834-1917), William Lithgow (1854- 1908) and Anderson Roger (1843-1909). Lithgow was the chief draughtsman-designer and his work was crucial to the company's strategy of standardizing hull shapes and components thus increasing efficiency and profitability for the eventual shipowners.
Photo 4:
Russell & Co shipyard, Port Glasgow
Sales were helped by Russell and Company's policy of taking on a proportion of the owners' investment in their ships and they were also the first British shipbuilding company to build ships on 'spec' (that is, building a ship on speculation with no sale to a buyer at the beginning or throughout its construction). Accordingly, they were recognized as a shipyard of prodigious output producing ships totaling over 70,000 tons in one particular 19th Century year.
By now, readers will have recognized that Russell and Company were the antecedents of the famous and successful Lithgow shipbuilding empire as the largest private shipbuilding company in the world when at its peak. Russell's were incorporated into Lithgow's in 1918.
Between 1886 and 1896, Andrew Weir contracted for no fewer than 16 three-masted later four-masted, wrought iron later steel, sailing ships from Russell's, converting early on to steel construction in 1889 when steel became readily available and provided greater savings in cost and weight. These ships were the windjammers and certainly the most photogenic of merchant ships with their square rig of billowing sails and tall masts.But the relationship between Weir and Russell's was to continue into steamers when in 1897, Russell's were to deliver their first of no fewer than 18 steamships for Weir.
Weir's Sailing Ship Fleet[edit]
Photo 5:
Ambrose (1861) built by Wigham Richardson & Co, Wallsend for Schilizzi & Co, Liverpool. Sold in 1884 to J F Gibb & Co, London and renamed Willowbank. Sold the following year to Andrew Weir & Co who retained her name thereby establishing the company's primary ship nomenclature system.
From the first third-hand purchase of the iron 3-masted "Willowbank" in 1885 until the last sailing ship, the second-hand three-masted steel ship "Philadelphia" in 1912, Andrew Weir operated no fewer than 47 sailing vessels engaged in world-wide tramping trades and carrying coal, nitrate, maize, case oil, rails, cement, and general cargo. Weir's ships could be found all over the world - Australia, Chile, Argentina, South Africa, India, the United States and the Far East as he built up strong personal relationships with the principal shippers of the cargoes his ships transported. By this time Andrew Weir was generally recognized to be the operator of one of the largest sailing ship fleet under the British flag.
Photo 6:
Trafalgar (1877) built by Charles Connell & Co, Scotstoun for A W Brown, Glasgow. Sold to Andrew Weir in 1893. That same year the master and all the officers of the vessel died during a voyage from Batavia to Melbourne. The senior apprentice, William Shotton, took command of her and with the assistance of Hugh Kennedy, the sailmaker, navigated her to Melbourne
As far as ship nomenclature was concerned, the 16 new-buildings Windjammers from Russell's all had a "-bank" suffix whereas most of the bought-in ships kept their names at the time of purchase. Some of the "-bank" names would appear again and again through fleet renewals throughout the 20th. Century but some of the more evocative names such as "Hawthornbank", "Castlebank" and "Falklandbank" only had one outing. Perhaps it was because of their sad ending through submarine attack or disappearance without trace during their last voyages that these names were not revived? In any case, the Weir family always reserved the right to name their own ships.
Photo 7:
Isle of Arran (1892)
Andrew Weir's business philosophy of delivering economic ocean transportation services as a niche strategy in selected overseas trade connections was beginning to pay off. Where many British ship operators were concentrating on steamships and 'out and back' services from and to home ports, Weir's sailing ships could be found carrying coal from Newcastle (NSW) to Chile, rails from Montevideo to Salina Cruz (Mexico), or pig iron from Philadelphia to Nagasaki. The emphasis on commodity-based shipping services in foreign to foreign trade routes would be the basis for Weir as his horizons widened out with the introduction of steamers and the possibilities of developing liner services in routes not yet exploited by other ship operators.
Photo 8:
Springbank (1894)
And where the potential for a scheduled liner service was essentially in one direction with no or little corresponding return cargo to support the regularity of sailings, a connecting commodity-based tramp cargo link might be useful in joining up several one-way liner voyages to create a continuous string that would eventually bring a ship again back to the liner starting point.
A strategy of such complexity would, of course, depend upon business connections with shippers for the tramping connecting links and this was already being achieved by the operation of the sailing fleet. It would also be difficult for a potential rival to replicate an operational pattern owing to the unique and personal nature of Andrew Weir's connections.
The Steamers[edit]
The steamships first came into the fleet in 1896 with a 3,000 deadweight ship built for an Andrew Weir- managed, single ship company in Campbeltown on the Mull of Kintyre. Named "Duneric", she was to stay in the Weir fleet for 20 years before being sold during the First World War. The first Russell-built steamship was the "Elleric" built in 1897, and as mentioned above, the beginning of no fewer than 18 steamers delivered to Andrew Weir following the sailing ships from the same yard, the last of which was the "Thornliebank" delivered in 1896.
Photo 9:
Thornliebank (1896) the last sailing ship to be built for Andrew Weir
The new-building steamships mostly had the suffix "eric" which according to Norman Middlemiss was the name of Andrew Weir's eldest son tragically lost during the Great War. There is a bit of a mystery about this as a review of the available Weir family tree does not reveal an Eric Weir. It may be that the "Duneric" name was chosen for some other political consideration (perhaps a financial 'partner' in the ownership?) and was subsequently retained for all the new-building steamships. In any case, the definitive answer has not yet been established. Research into the Weir family names was conducted by Messrs. Ken Dagnall and Ray Livingstone.
Photo 10:
Foreric (1898) - One of Andrew Weir's second group of four steamships. They were built by Russell & Co between 1897 and 1899
In the early stages of Weir's steamship era, many of the ships were built for the ownership of associated one-ship companies and managed by Andrew Weir. The name of the ship was usually incorporated into the formal name of the owning company but in 1905, the Bank Line Limited was set up in Glasgow and became the registered owner of most of the subsequent ships. Business operations were moved to London at the same time. First ship to be registered under the ownership of the Bank Line Ltd. was the s.s."Aymeric" in 1905, again, a product of Russell's of Port Glasgow.
At the same time as a more sophisticated pattern of ship operations was introduced, Andrew Weir/Bank Line agencies were established at key ports overseas. Bank Line offices staffed by Bank Line personnel were to be established at overseas locations with the express intention to supervise ship and cargo operations with commercial management in the capable hands of established local agency houses. This arrangement was to continue throughout the 20th. Century with representation in such ports as Lagos, Basrah, Calcutta, Durban, Hong Kong, Shanghai, Tokyo, Sydney, Valparaiso, Buenos Aires, San Francisco, and New York with latterly New Orleans, Houston, Rabaul, and Singapore added as the pattern of business evolved. Several agency houses had Andrew Weir's financial participation involved with their establishment.
Andrew Weir's business and personal friendships would also continue to deveop with such international names as Lipton (tea), Lever (copra), Doheny (oil), Marconi (radio), Pirrie (shipbuilding), North (nitrate), Anderson (shipping), Kennedy (movies) Pearson (Mexico) and a host of others as well as useful commercial and political relationships around the world.
Several Bank Line/Andrew Weir overseas offices are worth an extra word or two as individuals who were posted to these far-flung locations have kindly provided the author with some notes of their expatriate experiences.(See Part 9)
Photographs[edit]
The photographs used to illustrate this article are from the Ships Nostalgia Galleries, which are available for use in the Directory. The individual photographs used in Part 8 have been provided as follows: -
Frontispiece: Clydebuilt Database - John Ward-McQuaid
J.R. Stenhouse
Clydebuilt Database - Adamson
Clydebuilt Database - Richard Sloan Collection
wrecksite.eu
wrecksite.eu
Clydebuilt Database - Green Collection, State of Victoria Library
Ships Nostalgia - mellegiesen
J.R. Stenhouse
Clydebuilt Database - John Ward-McQuaid
Clydebuilt Database - John Ward-McQuaid
Article written and compiled by Alistair Macnab
Formatting and presentation only, by Fred Henderson
© RVW Productions LLC, 2010
To move to an earlier Part, simply click on the Part Box below.