Contents
1 Introduction
2 The major cruise fleets in 1990
3 The Fantasy Class - Carnival's first Panamax ships
4 The renewal of the Holland America fleet
5 Costa Crociere
6 Cunard
7 Seabourn Cruise Line
8 The first post-Panamax cruise ships
9 Absolute-Panamax Ships
10 Norwegian Cruise Line
11 P&O Princess
12 The major cruise fleets in 2003
13 Continuation
14 Bibliography
15 Photographs

15.1 Carnival Corporation History
Introduction[edit]
The article Carnival Corporation History - Part 1 covers the period from Ted Arison's cruise trade debut in 1968, up to his retirement in 1990. This article continues the history up to the acquisition of P&O Princess in 2003, Carnival Corporation History - Part 3 covers the Carnival story up to 2006. Since 1990 the group has been controlled by Ted's son Micky Arison.
When Ted Arison retired Carnival had grown to become one of the leading cruise companies. In the period covered by this article it has dominated the phenomenal growth of the cruise industry. In 2006 Carnival carried over 7,000,000 cruise passengers, representing just under 50% of the market. Royal Caribbean, its nearest rival is now about half the size of Carnival, whilst the third player, Star, is only half the size of Royal Caribbean. This article and Part 3 record the growth of Carnival and its construction and acquisition of the largest fleet of passenger ships the world has ever seen.
The major cruise fleets in 1990[edit]
In 1990 the major cruise groups were: -
Carnival - 12 cruise ships - 19,226 passenger capacity
P&O - 11 cruise ships - 13,657 passenger capacity
Royal Caribbean - 9 cruise ships - 13,418 passenger capacity
Kloster - 11 cruise ships - 12,399 passenger capacity
The Fantasy Class - Carnival's first Panamax ships[edit]
Photo 1:
Fantasy
Fantasy and her seven sisters were a major upward step in design of Carnival's cruise ships. They were considerably larger than previous Carnival ships, yet they were destined to become the standard workhorses of the fleet. They also represented a transition in cruise ship design. Although they were leading the way towards a modern design appearance, with their futuristic funnels and bulkier superstructure, they were also the last big cruise ships to retain some features of traditional liner designs. In particular the upper-deck lifeboat arrangements and the traditional stepped "wedding-cake" forward and after ends of the superstructure employed in the old super-liners like Queen Mary, Queen Elizabeth and Normandie.
From an engineering viewpoint however, Fantasy was a trend-setter. She followed and greatly improved upon, the revolutionary features that were employed in re-engining Queen Elizabeth 2. This was to use a power station concept to provide a common source of electrical power to meet both propulsion and hotel load requirements. For Fantasy, however, Carnival moved to simpler, but more expensive thyristor control circuitry using the cyclo-converter to provide a single-step conversion from the ship's alternators down to the variable lower frequency range required by the propulsion motors. This system allowed a smooth and continuous adjustment of propulsion motor speed from zero to 140 rpm.
Further flexibility to meet electrical load requirements was obtained by using four 7,920 kW alternators powered by 12 cylinder ZA40 Sulzer diesels and two 5,280 kW alternators powered by 8 cylinder ZA40s. For security the alternators were located in three separate compartments and the propulsion motors in a fourth space.
To provide operational manoeuvrability Fantasy was provided with six 1,500 kW thrusters; three forward and three aft. This enables her to enter and leave any Caribbean harbour without tug assistance at wind speeds below 35 knots. By comparison the slightly larger RCCL Sovereign of the Seas is only fitted with two 1,250 kW bow thrusters.
The basic specification of the Fantasy class is - 70,367 grt; 260.6 metres Loa; 31.5 metres beam; 2,048 passengers on the basis of 2 passengers per cabin; 2,634 passengers max; 920 crew; service speed 21 knots.
Photo 2:
Fantasy
The ships in the class are: -
Fantasy (1990)
Ecstacy (1991)
Sensation (1993)
Fascination (1994)
Imagination (1995)
Inspiration (1996)
Elation (1998)
Paradise (1998)
Elation and Paradise were the first cruise ships to be fitted with electric azipod propulsion. This provided dramatically improved manoeuvrability and despite the ships' hull not being optimised for azipods they are 7% more fuel efficient.
Photo 3:
Paradise at Long Beach. Note the waterline guard-rail to protect the port azipod unit is just visible under the stern overhang.
The contract for Fantasy and two sister ships was originally placed with Wartsila, however the shipyard ran into financial difficulties early in the build programme and Micky Arison flew to Finland to arrange a rescue package. Carnival effectively bought the shipyards and progressively increased its order to eight Fantasy class ships. The total contract value of the eight ships was $2.3 billion. During this build programme Carnival sold its shares in the newly named MASA Yards to Kvaerner.
All eight ships are to be given a mid-life refit when balconies and other cruise industry developments will be added. On completion of their refits the prefix "Carnival" will be added to their names, in line with the company's subsequent ship naming policy.
The renewal of the Holland America fleet[edit]
Successful absorption of an old established company requires the new owners to apply all necessary change with tact and diplomacy. Holland America was Carnival's first acquisition and it displayed considerable flair in the transaction, developing corporate skills that have stood it in good stead in the subsequent expansion of the group. Micky Arison helped to defuse any potential friction between the Carnival Cruise Line and Holland America by appointing an outsider, Howard Franks as his deputy. Franks was a partner of Pricewaterhouse Coopers, Carnival's accountants, he was brought in as vice president for finance and within three years had been elevated to chief operating officer and vice chairman. Micky's determination to develop the separate brands was further demonstrated in the way the Holland America new building programme was handled.
At the date of the take-over, Holland America was already in advanced discussions with Bremer Vulkan for an enlarged version of Nieuw Amsterdam but no contract had been signed. Carnival was not impressed with the proposed design and halted negotiations. Carnival's regular London based naval architects were asked to produce a more efficient design based upon the successful Carnival ships. Their solution was based on the existing up-market Project Tiffany project and incorporated a smaller powered version of Fantasy's thyristor cyclo-converter power station propulsion. Tenders were sought for the construction of three ships and the best response was received from the Monfalcone shipyard of the Italian Fincantieri organisation.
Fincantieri already had an order from Costa for its nearby Marghera shipyard for a very similar sized ship - Costa Classica. This ship's hull form and overall structural design were taken as the starting point for the Holland America project. As a result, Fincantieri were able to match the planned Bremer Vulkan delivery dates. A contract for three vessels was placed with Fincantieri in November 1989.
Although technically the new ships followed established Carnival designs, Holland America were given complete freedom to continue to employ their Dutch house design firm De Vlaming, Fennis, Dingemans - Interiors BV. (VFD) Holland America was also allowed to name the ships. As a result, when the ships entered service they were regarded by everyone as traditional Holland America vessels. The design was so successful that a fourth ship was added to the order.
The basic specification of the Statendam class is - 55,451 grt; 219.3 metres Loa; 30.8 metres beam; 1,258 passengers on the basis of 2 passengers per cabin; 1,613 passengers max; 618 crew; service speed 20 knots.
The ships in the class are: -
Statendam (1992)
Maasdam (1993)
Ryndam (1994)
Veendam (1996)
Photo 4:
Statendam at Brisbane
At the time of the delivery of Statendam, she was the largest ship Holland America had ever owned. During the build programme for the class, even bigger and better ships were authorised. The Holland America team were delighted with their new owners and the company has become a very successful premium brand in the cruise market.
Photo 5:
Typical Holland America Stateroom
As new tonnage entered service, Holland America began to retire its older ships. The first priority was the replacement of the 1959 built Rotterdam. This ship had for many years been employed in long, open-ocean voyages, including an annual around the world cruise. A replacement needed to be faster than the Statendam class to avoid passenger boredom on ocean crossings.
The new flagship was ordered from Fincantieri's Marghera shipyard and was also named Rotterdam when she was delivered in November 1997. She was built to a very high specification with interior design again the responsibility of the Dutch VFD company.
The basic specification of the Rotterdam (1997) is - 59,652 grt; 237 metres Loa; 32.2 metres beam; 1,316 passengers on the basis of 2 passengers per cabin; 1,668 passengers max; 644 crew; service speed 22.5 knots (25 knots trials)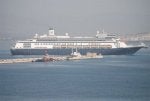 Photo 6:
Rotterdam arriving at Gibraltar
Fincantieri subsequently received an order for two enlarged Statendam class; Volendam (1999) and Zaandam (2000) Their basic specification is - 60,916 grt; 238 metres Loa; 32.3 metres beam; 1,440 passengers on the basis of 2 passengers per cabin; 1,824 passengers max; 647 crew; service speed 20 knots.
Photo 7:
Volendam leaving Vancouver
The final ship of this Fincantieri series is Amsterdam (2000). She is also a very high specification ship like Rotterdam, but is fitted with Azipod propulsion. Her basic specification is - 60,874 grt; 237.8 metres Loa; 32.25 metres beam; 1,380 passengers on the basis of 2 passengers per cabin; 1,738 passengers max; 642 crew; service speed 21 knots (24.5 knots trials)
Photo 8:
Amsterdam
The total contract value of the eight ships was slightly in excess of $2 billion.
Costa Crociere[edit]
In 1993 Royal Caribbean made its Initial Public Offering on the New York stock exchange. This helped to strengthen the finances of the company, but also publicly demonstrated how far Royal Caribbean's business was behind Carnival and in particular the much lower Carnival cost per passenger. Richard Fain felt that the best way for RCCL to catch up to Carnival was to increase the size of his business by an acquisition, to replicate Carnival's success with Holland America. He had great difficulty trying to persuade the RCCL management team of this concept. They were working on the growth of RCCL as a single mega-brand. He felt, however, that to outflank the Arisons he needed to move into a different market. The obvious choice was Europe and an opportunity arose when RCCL was approached by Costa Crociere, a family controlled Italian cruise line that was quoted on the Milan stock exchange.
The Costa shipping business began in coastal cargo trades in 1924. After WW2 Costa entered into the Italy-South America emigrant trade and became a significant operator before successfully moving into cruising. Costa aggressively expanded its cruise fleet in the 1990s and was in danger of overreaching its capital base. The problem was that RCCL was itself heavily in debt and taking on Costa would probably result in a damaging downgrading of RCCLs credit rating. After a lengthy and seriously overdone due diligence the RCCL board only consented to make an unacceptable formal offer.
At this time Micky Arison was in dialogue with the UK travel company Airtours who had a small cruise operation, ironically using second hand ships bought from RCCL. When the breakdown of the Costa - RCCL talks became news, Micky was wary of seizing the opportunity and instead combined it with his discussions with Airtours. In December 1996 Carnival bought 25% of Airtours. Carnival and Airtours each bought 50% of Costa. It soon became clear that this action was mistaken. The weak link was Airtours, not Costa and Airtours was unable to finance its share of the further expansion of the Costa operation. In 2000 a further deal was completed whereby Carnival floated off its investment in Airtours and bought the Airtours Costa shareholding.
The Costa acquisition provided: -
Costa Riviera (1963) (ex-Guglielmo Marconi) 31,500 grt; 972 passengers
Costa Marina (1969) (ex-Axel Johnson) 25,558 grt; 772 passengers
Costa Allegra (1969) (ex-Annie Johnson) 28,430 grt; 810 passengers
Costa Classica (1991) 52,926 grt; 1,356 passengers
Costa Romantica (1993) 53,049 grt; 1,356 passengers
Costa Victoria (1996) 75,051 grt; 1,928 passengers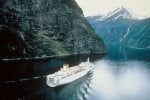 Photo 9:
Costa Marina in Norway
Photo 10:
Costa Romantica in Venice
Costa Playa (1966) (ex-Finlandia) 31,500 grt; 972 passengers
(This ship was operated out of Cuba by a subsidiary of Costa. It was sold immediately after the joint acquisition of Costa.)
Mermoz (1957) (ex Jean Mermoz) 13,804 grt; 553 passengers
This ship was operated by a subsidiary of Costa. It was sold in 1999.
Costa Olympia, the sister of Costa Victoria was about 40% completed when all work was halted by the bankruptcy of her builder, Bremer Vulkan. The contract was cancelled shortly after the joint acquisition of Costa.
Cunard[edit]
Micky Arison's corporate acquisitions were driven by his desire to create the biggest and best cruise business. That desire was so strong that his company was known throughout the industry as "Carnivore Cruise Lines." The purchase of Cunard however, was more like the last minute rescue of a sinking ship.
Cunard is the oldest and only transatlantic passenger shipping company still trading. It was formed as a result of the Nova Scotian business man Samuel Cunard winning an 1840 tender for the lowest annual fee needed to establish and maintain a regular service to carry British mail across the Atlantic. From his company's very inception therefore, it relied upon British government revenue to subsidise the service. Cunard remained in business because the company continued to win the periodic competitions to renew the Mail Contract.
Photo 11:
RMS Mauretania postcard
The company's reliance upon British government support increased during the first half of the twentieth century. In 1902, when Morgan's International Mercantile Marine began acquiring control of many of the leading transatlantic including White Star, it seemed likely Cunard Line would also be absorbed. To prevent this monopoly situation, the British Government funded the construction of two large fast liners (Lusitania and Mauritania) with a twenty year loan at 2.5% interest conditional upon Cunard remaining purely British. IMMC ran into serious financial difficulties and White Star was bought by Lord Kylsant's Royal Mail Line empire, which in turn collapsed into bankruptcy. In 1933 the government again funded Cunard to complete Queen Mary and Queen Elizabeth on the basis that Cunard take over White Star. The value of the mail contract was increased to finance the repayment of the loans. Finally the construction of Queen Elizabeth 2 was also financed by a government guaranteed loan. This was however the last special assistance provided to Cunard by the government.
Photo 12:
RMS Queen Mary in Southampton, 1952
For a large part of its history Cunard was also dependent upon income from transatlantic emigrant traffic, not only from Northern Europe, but also from the Mediterranean. In 1903 for example, Cunard Line was appointed official agents for Hungarian emigration. This traffic was severely curtailed after WW1, although it continued to be important on the Canadian service until these were discontinued in the 1960s.
Cunard had also diversified into world-wide cargo liner activity by acquiring Port Line and Brocklebank during WW1 and in 1964 a tanker company, H E Moss & Co. The company also became involved in air travel firstly through Eagle and subsequently through BOAC-Cunard.
By the mid 1960s the company was in serious decline. In 1965 the group's cargo ships made £1.4 million and the airline £0.5 million, but passenger shipping lost £2.7 million. In the first 5 years of the 1960s, Cunard's passenger ships lost £14 million. As 1966 opened Cunard was faced with the choice of investing in container ships to replace its cargo vessels or investing in Boeing 747s for the airline. The disastrous 1966 seamen's strike closed out the options. The strike cost Cunard £6.7 million. The company could only remain solvent by selling to the government its share in BOAC-Cunard.
Ironically the seaman's strike initially had a beneficial effect for British passenger shipping. One of the emergency measures enacted by the British Government to counteract its crippling effect on the economy was a foreign exchange limitation of only £50 per person. This created an instant demand for cruises on British ships. This seasonal demand was not sufficient to economically employ the passenger fleet and Cunard lost over £2 million in the first half of 1967. Queen Mary was withdrawn later in the year and Queen Elizabeth was scheduled to go in 1968 after delivery of the new Queen Elizabeth 2 Not even the cash-strapped British public was prepared to tolerate the accommodation standards on Carinthia and Sylvania and Cunard could not afford to upgrade them. They and Caronia were withdrawn for sale at the end of 1967.
Queen Elizabeth 2 was delivered in 1969 and settled in to a regular routine of transatlantic liner voyages in summer and cruises during the rest of the year. The group began a rapid disposal of its 58 cargo ships as services were increasingly containerised, with Cunard participating in both the ACL and ACT consortia. Eccentrically, although Cunard had no experience in the trade, 8 bulk carriers were ordered from Spain.
Cunard invested in Overseas National Airlines, who were building two small cruise ships in Holland. The concept was that the ships would operate in the short duration, low cost cruise market out of San Juan. They were designed to carry the passenger load of two jumbo-jets, operated by ONA. Early in 1971 ONA was in financial difficulties and Cunard took over the contracts for the construction of the two ships.
In the summer of 1971 Cunard was bought by the UK conglomerate Trafalgar House for £26 million. It was feared that the new owners would act as asset-strippers, but this did not happen. Nevertheless, the new owners presided over some bizarre decisions.
The old Carmania and Franconia were now only fit for the very low-price bottom end of the cruise market. As British ships however, they had expensive British crews. Cunard tried but failed to obtain union agreement to operate the ships with British ship operators but international hotel staff. As the ships were loss-makers at full British crew costs, Cunard laid them up and sold them to the Soviet merchant fleet. Almost unbelievably at the same time as this union confrontation, Cunard moved the ONA low-price San Juan operation to the high cost British flag, instead of leaving the ships internationally manned as P&O did with Princess.
Photo 13:
Cunard Adventurer. Note her funnel is not painted in Cunard colours.
One of Cunard's greatest assets was its very famous name. To the general public Cunard epitomised luxurious sea travel. Trafalgar House appeared to be oblivious to this and conducted a policy that seriously diminished the value of the Cunard brand. The down-market San Juan ships were named Cunard Adventurer and Cunard Ambassador. Similar names were used for its subsequent two-star cruise ships. The eight bulk carriers were operationally a financial disaster and were sold within two or five years of delivery. Nevertheless whilst they were in service were given Cunard names like Cunard Campaigner, Cunard Chieftain etc. Ten fruit carriers were bought from the bankrupt Maritime Fruit Corporation and given traditional Cunard names. At the same time an eclectic selection of more luxurious second-hand cruise ships were bought from various Scandinavian owners and added to the fleet, retaining their original names and hull colours.
Trafalgar House was taken over by the Norwegian group Kvaerner in 1996, largely to acquire the Trafalgar House engineering companies. Kvaerner had no interest in Cunard, which was bought by Carnival in 1998.
The Cunard acquisition provided: -
Queen Elizabeth 2 (1969) 70,327 grt; 1,500 passengers
Vistafjord (1973) 24,292 grt; 679 passengers
Sea Goddess I (1984) 4,253 grt; 116 passengers
Sea Goddess II (1984) 4,260 grt; 116 passengers
Royal Viking Sun (1988) 37,845 grt; 766 passengers
Photo 14:
Queen Elizabeth 2
Photo 15:
Vistafjord. Note that she retains her Norwegian America name and hull colour, with a Cunard funnel.
Photo 16:
Royal Viking Sun. Note that the only evidence of her ownership is the name Cunard on her superstructure. She even retains the Royal Viking funnel logo.
Seabourn Cruise Line[edit]
Seabourn Cruise Line is a comparatively young company. It was founded in 1987 by the Norwegian industrialist Atle Brynstead with the objective of creating the world's most elegant and luxurious cruise product. Although a small company, it is a significant operator at the very top of the cruise market.
Carnival acquired 25% of Seabourn in 1992. This holding was subsequently increased and the company became a 100% subsidiary of Carnival at about the same time as the purchase of Cunard. Although Cunard and Seabourn are operated as very distinct brands, they share the same back-office, shore-side support services.
The Seabourn acquisition provided: -
Seabourn Pride (1988) 9,975 grt; 200 passengers
Seabourn Spirit (1989) 9,975 grt; 200 passengers
Seabourn Legend (1992) 9,961 grt; 212 passengers
Photo 17:
Seabourn Legend
The first post-Panamax cruise ships[edit]
In the years during which the ships of the Fantasy class were being built, changes were made in passenger ship safety legislation requiring lifeboats to be carried nearer the waterline in future designs. A simple repositioning within the existing Fantasy class would have resulted in a significant reduction in earning capacity. As a consequence a new design of increased size was developed to maintain the same high level of space utilisation to be achieved.
The new ship was named Carnival Destiny, starting a new naming policy for Carnival. She is only 6 metres longer than Fantasy, but has a proportionally a much greater beam at 35.43 metres. This shape increases the ship's stability and enables her to have an additional one and a half passenger decks. These changes mean that Carnival Destiny is the first cruise ship to exceed 100,000 grt and the first to be too wide for the Panama Canal. It was decided that there was not an operational requirement to transit the canal.
In most respects Carnival Destiny is an enlarged version of the Fantasy design, with the additional capacity used to increase the "wow effect" on the passengers. She was the first cruise ship to have two, two-deck high dining rooms and a three-deck high show lounge. These ships also incorporate a considerable increase in the number of veranda cabins.
Carnival Destiny was built by Fincantieri's Monfalcone shipyard. Her basic specification is: - 101,353 grt; 272.2 metres Loa; 35.5 metres beam; 2,642 passengers on the basis of 2 passengers per cabin; 3,400 passengers max; 940 crew; service speed 22.5 knots (23.5 knots trials)
The ships in the class delivered up to 2003 are: -
Carnival Destiny (1996)
Carnival Triumph (1999)
Carnival Victory (2000)
Costa Fortuna (2003)
Photo 18:
Carnival Victory
Photo 19:
Costa Fortuna arriving in Civitavecchia, Rome
The Monfalcone shipyard then began production of an enhanced version of these ships, with 17 metre extension to the hull ahead of the machinery spaces and an additional deck forward in the superstructure, above the wheelhouse. The basic specification of this sub-group is: - 110,239 grt; 290.2 metres Loa; 35.5 metres beam; 2,966 passengers on the basis of 2 passengers per cabin; 3,783 passengers max; 1170 crew; service speed 19.6 knots (22 knots trials)
The ships in the class delivered up to 2003 are: -
Carnival Conquest (2002)
Carnival Glory (2003)
Photo 20:
Carnival Glory at St Thomas
Absolute-Panamax Ships[edit]
After producing their first post-Panamax design, the Carnival naval architects turned their attention to the absolute-Panamax concept. These ships have been produced in two groups; the mass-market 8000 class ships in Finland and the premium market Vista class ships in Italy.
These designs feature a sophisticated shaping of the superstructure to accommodate passage through the Canal. Aft of a full beam forebody, the superstructure is inset from the ship's side to the inner line of the lifeboats. The lifeboats and all other deck equipment are fully inboard of the deck edge with no overhang beyond the hull. This allows optimum handling by the Canal mules. There are no lifeboats amidships in the 8000 class and the superstructure is slightly wider here to allow centeline space for services. The afterbody returns to full beam. The narrowing of the superstructure above the lifeboats reduces the topside mass sufficiently to permit another deck. The superstructure is almost entirely devoted to balcony cabins, but the sculpted effect of its shape effectively reduces the dominance of the horizontal balcony lines.
Photo 21:
Sculpted midships superstructure of Vista class Zuiderdam.
These ships are optimised for azipod propulsion and have pioneered the latest environmental classifications.
The first Finnish built ship was allocated to Costa to replace the cancelled Costa Olympia. Her basic specification is: - 85,619 grt; 292.5 metres Loa; 32.2 metres beam; 2,114 passengers on the basis of 2 passengers per cabin; 2,680 passengers max; 902 crew; service speed 22 knots (24 knots trials)
The ships in the class delivered up to 2003 are: -
Costa Atlantica (2000)
Carnival Spirit (2001)
Carnival Pride (2001)
Carnival Legend (2002)
Costa Mediterranea (2003)
Photo 22:
Costa Atlantica in Venice
The second Carnival group absolute-Panamax design has been built at the Fincantieri Marghera shipyard. They were intended solely for Holland America and outfitted to that brand's high standards with larger cabins and therefore fewer passengers. Although the company's usual Dutch interior designers VFD Interiors are employed, these ships mark a departure from the decor provided in previous Holland America ships. Their interiors display a lighter and more contemporary look aimed at attracting a younger clientele. The ships also have modified machinery arrangements, with both gas turbine and diesel powered alternators to reduce air pollution as required by the Alaskan authorities.
The basic specification of the Holland America ships is: - 81,749 grt; 289.8 metres Loa; 32.25 metres beam; 1,848 passengers on the basis of 2 passengers per cabin; 2,388 passengers max; 812 crew; service speed 22 knots (24.4 knots trials)
The ships in the class delivered up to 2003 are: -
Zuiderdam (2002)
Oosterdam (2003)
Photo 23:
Zuiderdam
Norwegian Cruise Line[edit]
By early in 2000, Norwegian Cruise Line was in very poor financial shape. Knut Kloster had been removed from the company by the rest of the Kloster family, but the company continued to decline. NCL was quoted on the Oslo stock market and Carnival began to build up a stake in the business. Soon afterwards the Malaysian company, Star Cruises also became a shareholder and the price of the stock began to rise in anticipation of a take over battle. Micky Arison appeared to have an interest in settling old scores with NCL, but not to the extent of paying more than the company was worth. After bidding up the price, he stepped out, leaving Star with a high acquisition debt burden.
P&O Princess[edit]
The Peninsular & Oriental Steam Navigation Co Ltd was incorporated by Royal Charter in 1840. It grew and expanded until it dominated passenger and cargo liner services from Britain to India, Australia, New Zealand, between those countries and around the Indian Ocean. It was also a major operator to the Far East and elsewhere.
After WW2 P&O gradually changed and become increasingly diversified away from its traditional business. In the end P&O had its finger in a very large number of pies, but nowhere did it control the dish.
Investors became confused by a shipping company that was building houses in UK, operating ports in India, managing the Earls Court exhibition centre in London, operating luxury resorts in Australia and Spain, was into oil exploration, travel lodges in Alaska and many other diverse activities. The shares became increasingly unpopular and lagged behind the market until P&O was in a very dangerous financial situation.
The total individual value of the great collection of companies owned by P&O became significantly greater than the market value of P&O itself. This created an ideal situation for someone to buy P&O, then to sell off each of the subsidiary companies and make a handsome profit. In 1983 Trafalgar House made a bid for P&O. Trafalgar House had already bought Cunard and was later to almost destroy that company. Fortunately a young, new P&O director called Jeffrey Sterling organised a spirited defence of the company and the raid was repulsed.
Sterling was appointed as Chairman of P&O and led the company into the 21st Century. Unfortunately he intensified the diversification process, until in the mid 1990s there was a near mutiny by the major shareholders. They made it clear to the by then Lord Sterling, that if he and the other directors wanted to keep their jobs, P&O must become focussed in one or two sectors and the rest of the operations sold off.
Sterling reluctantly complied with these demands. Sadly P&O was in so many activities that for years available capital investment was rationed between them and their growth was stunted. Many of the subsidiaries were too small to become stand alone companies and they could only be the subject of a trade sale within their industry. Even the very large P&O companies had been left behind by their rivals.
P&O cruise shipping business was certainly in this situation. In 1970 the P&O and Italia passenger fleets were the largest in the world. They were about the same size, both having 15 passenger ships. Italia's passenger shipping operations collapsed a few years later when the Italian government subsidy was withdrawn. In 2000 when P&O Princess Cruises was floated off as a new quoted company its position had fallen to be only the third largest cruise group in the world with 17 cruise ships. Despite that, the market value of the new cruise company was about 150% of the value of all of the remainder of P&O. Lord Sterling became chairman with Peter Ratcliffe as Managing Director of P&O Princess.
Ratcliffe had suffered years of frustration at Princess because of P&O's failure to adequately invest in its cruise business. He now wanted to overcome that handicap, but the company's floatation had not yielded any capital and it was clear that P&O Princess was in a vulnerable situation. Although Carnival and Royal Caribbean were public companies both had large blocks of shares under the control of their founders. P&O Princess however, had been spun off by giving its shares to the existing shareholders of P&O and it was entirely owned by financial institutions and public investors who would be receptive to a take over bid. Ratcliffe wanted to have some control of the situation, not to be the victim of a move. He therefore brought in a team of financial and legal advisers who had no connection with P&O so that he could consider his options.
From Ratciffe's perspective Carnival was a better proposition. Carnival has brilliantly created a federal structure where each of its companies has a high degree of support and freedom of action to fully exploit their brand. By contrast Royal Caribbean was essentially a monolithic structure that came close to destroying it one major acquisition, Celebrity Cruise. On the other hand Micky Arison was famous for never parting with one unnecessary dollar and it would be very difficult to structure a deal that would satisfy the Princess shareholders unless there was a competitive take over situation. A further problem was the likelihood that the competition regulators in US or Europe would veto the creation of a joint Carnival / Princess company controlling almost 50% of the cruise industry.
In May 2001 Ratcliffe telephoned Richard Fain, the Chairman and CEO of Royal Caribbean, and proposed that the two companies should discuss a possible merger. The advantages were obvious to Fain but he was afraid that Royal Caribbean was merely being used to provoke a better offer from Carnival. After considerable debate with his fellow directors he agreed to go ahead. A private meeting was arranged at Fain's Florida home for the morning of 9 September 2001. When the news of the New York and Washington terrorist atrocities came through, the meeting was abandoned.
Discussions were subsequently restarted however, which led to acceptance by both Boards of Directors of a dual-listed merged corporation idea, so that the merged Princess could remain on the London stock exchange, thus avoiding the situation where the considerable number of British pension funds and trusts would be obliged to sell if they became shareholders in an overseas corporation. Against the advice of Radcliffe the deal also included a thinly disguised American style "poison pill" where both companies would invest $500 million to create a new Mediterranean cruise company but if Carnival gained control of Princess before 1 January 2003 the entire joint venture would go to Royal Caribbean. A public announcement was made on 20 November 2001. As Radcliffe had warned the Mediterranean joint venture concept was very controversial and bitterly criticised in Britain as a denial of shareholder rights. Carnival responded with an opening counter offer, which was rejected by P&O Princess. This initiated several rounds of competitive manoeuvring from the two American companies, lasting well into 2002.
During the early months of 2002, the Board of P&O Princess remained steadfastly loyal to Royal Caribbean, not the least because of the substantial penalty which was payable should another offer be accepted before 1 January 2003. Nevertheless the shareholders increasingly began to support Carnival. To Fain's chagrin Ratcliffe was also failing to fully support him and made no effort to actually form a Mediterranean company. It was a replay of the Carnival / Royal Caribbean take-over fight of 1988, but this time Fain was being frozen out. The turning point was a General Meeting called on 14 February 2002 to approve the final Royal Caribbean offer.
The Royal Caribbean strategy was to emphasise the likelihood of any Carnival offer being blocked by the monopoly regulators in the USA, the EEC or the UK. The Royal Caribbean offer was final. If it was not accepted, Royal Caribbean hinted that they would walk away and no deal would be possible. To Fain's astonishment, just before the meeting, the British authorities announced that the Royal Caribbean offer also needed regulatory approval. Many felt that the Establishment was showing its resentment against Fain's "Poison Pill" strategy.
On the eve of the meeting Carnival increased its conditional offer above the value of Royal Caribbean's, also on a dual listing basis and Micky made the brilliant public proposal that the meeting should merely fail to either agree or reject the Royal Caribbean offer. That would give Carnival time to seek the regulatory approval so enabling it to make an unconditional offer. In the meanwhile Royal Caribbean could only walk away by foregoing its $500 million. Fain was caught by his own defence.
The hostility of the shareholders to the Royal Caribbean strategy resulted in the Extraordinary General Meeting continuing into the small hours of the next day, at which point the meeting was postponed indefinitely. From this point onwards, it was clear that Royal Caribbean would only succeed if they obtained regulatory approval and Carnival failed.
All regulatory approval was in fact granted to both offers. Although the combined Carnival / Princess operations represented about 50% of the cruise business they were only about 5% of the total vacation industry. The merger was finalised on 17 April 2003. The new structure is highly unusual. P&O Princess Cruises plc continued as a listed company but changed its name to Carnival plc. The two companies, Carnival Corporation and Carnival plc function as a single economic entity through contractual agreements between the two separate legal entities. Based on the agreed comparative values at the time of the merger, the Carnival Corporation shareholders obtained 74% and Carnival plc 26% of the shares in the new structure. Every share now has the same economic and voting interest but they are traded on different stock exchanges; Carnival Corporation in New York and Carnival plc in London.
The new entity is officially known as Carnival Corporation & plc. It is the only entity in the world to be included in the Premier Leagues of both the New York and London Stock Exchanges; the S&P 500 and the FTSE 100 respectively.
Photo 24:
It is part of the ritual of the New York Stock Exchange that on the day when a company is newly launched on the market, its chief executives sound the bell to signify the end of trading. Micky Arison (right) and Howard Franks (left) press the bell on the day that the dual-listed Carnival Corporation & plc was first listed.
The P&O Princess acquisition provided: -
Aida
(Germany)
AIDAcara (1996) 38,531 grt; 1,186 passengers
AIDAvita (2002) 42,289 grt; 1,266 passengers
AIDAaura (2003) 42,289 grt; 1,266 passengers
Photo 25:
AIDAvita in Bonaire
Arosa
(Germany)
Arosa Blu (1990) 69,845 grt; 1,590 passengers
Three river boats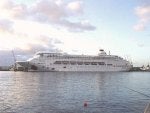 Photo 26:
Arosa Blu at Madeira
Ocean
(UK)
Ocean Village (1989) 63,524 grt; 1,624 passengers
Photo 27:
Ocean Village in Barcelona
P&O Cruises
(UK)
Oriana (1995) 69,153 grt; 1,760 passengers
Adonia (1998) 77,499 grt; 2,022 passengers
Oceana (2000) 77,499 grt; 2,022 passengers
Aurora (2000) 76,152 grt; 1,878 passengers
Photo 28:
Oriana in Southampton, July 2007
Photo 29:
Aurora in Palma Southampton
P&O Holidays
(Australia)
Pacific Sky (1984) 46,087 grt; 1,212 passengers
Photo 30:
Pacific Sky
Princess Cruises
(USA)
Royal Princess (1984) 44,348 grt; 1,200 passengers
Regal Princess (1991) 70,285 grt; 1,590 passengers
Sun Princess (1996) 77,441 grt; 2,022 passengers
Dawn Princess (1997) 77,441 grt; 2,022 passengers
Grand Princess (1998) 108,806 grt; 2,600 passengers
Golden Princess (2001) 108,865 grt; 2,592 passengers
Star Princess (2002) 108,806 grt; 2,592 passengers
Coral Princess (2002) 91,627 grt; 1,974 passengers
Island Princess (2003) 91,627 grt; 1,974 passengers
Photo 31:
Royal Princess in Auckland
Photo 32:
Regal Princess in Auckland
Photo 33:
Dawn Princess
Photo 34:
Grand Princess
Photo 35:
Coral Princess in Gatun Lake, Panama Canal
Swan Hellenic
(UK)
Minerva (1995) 12,331 grt; 388 passengers
The major cruise fleets in 2003[edit]
In 2003 the major cruise groups were: -
Carnival - 68 cruise ships - 113,332 passenger capacity
Royal Caribbean - 28 cruise ships - 60,326 passenger capacity
Star - 19 cruise ships - 26,528 passenger capacity
Continuation[edit]
For a continuation of this history see the links at the foot of this article
Bibliography[edit]
North Atlantic Seaway: N R P Bonsor: David & Charles; 1975
The Story of P&O: David Howarth & Stephen Howarth: George Weidenfeld & Nicholson for P&O;1986
Merchant Fleets No 12 - Cunard Line: Duncan Hawes; 1987
The Costa Liners: Maurizio Eliseo & Paolo Piccione: Carmania Press;1997
The development and growth of the cruise industry: Roger Cartwright & Carolyn Baird: Butterworth-Heinemann; 1999
Cruise Ships: An evolution in design: Philip Dawson: Conway Maritime Press; 2000
The cruise ship phenomenon in North America: Brian J Cudahy: Cornell Maritime Press; 2001
Devils on the deep blue sea: Kristoffer A Garin: Viking; 2005
Various publications of The Royal Institution of Naval Architects, particularly their annual Significant Ships since 1990
Various publications of ShipPax Information, Halmstad, Sweden, particularly their three annuals, Designs, Guide and Statistics
Photographs[edit]
Many of the photographs used to illustrate this article are from the very large collection contained in the Ships Nostalgia Galleries, which are available for use in the Directory. The individual photographs have been produced as follows: -
MASA Yards
Carnival Corporation
Ships Nostalgia - Shawn Broes
Ships Nostalgia - sinisa
Cruise Lines International Association (CLIA)
Ships Nostalgia - Pompeyfan for Shawn Broes
Ships Nostalgia - nicholas
CLIA
CLIA
CLIA
Ships Nostalgia - R736476
Ships Nostalgia - F Haws photo by Pedro Baptista
Ships Nostalgia - John Rogers
CLIA
Ships Nostalgia - Bootsmann
Ships Nostalgia - reklaw
CLIA
CLIA
Ships Nostalgia - Steve
Ships Nostalgia - dicamus
Ships Nostalgia - Denis Oakley
CLIA
Ships Nostalgia - Denis Oakley
Carnival Corporation
Ships Nostalgia - mickcommon
Ships Nostalgia - Ship'sEnthusiast
Ships Nostalgia - mystere
Ships Nostalgia - Rambo
Ships Nostalgia - mmoreno
Ships Nostalgia - sammyspot
Ships Nostalgia - Rutts
Ships Nostalgia - Rutts
CLIA
CLIA
Ships Nostalgia - dicamus
Article written and compiled by Fred Henderson