Contents
1 Kylsant's discovery of the Harland & Wolff nightmare after Pirrie's death
2 The Succession
3 The Harland & Wolff on the verge of bankruptcy
4 The Pirrie-Kylsant Motor Ships
5 Continued Harland and Wolff problems
6 Harland and Wolff Liners built for Non-Royal Mail Owners
7 Oceanic Steam Navigation Co
8 Bibliography
9 Photographs
Kylsant's discovery of the Harland & Wolff nightmare after Pirrie's death[edit]
Owen Cosby Philipps was appointed chairman of the moribund Royal Mail Steam Packet Co in 1902. By the outbreak of the First World War, he had transformed the Company into the flagship of a dynamic leading British shipping group. Most of this expansion was undertaken in collaboration with his friend and close business associate, William James Pirrie of Harland & Wolff (H&W). The story of the development of this remarkable relationship is told in Parts 1 and 2 of this history. The expansion of the Royal Mail group was of immense benefit to H&W but Pirrie's greatest coup was persuading Philipps to join him in taking financial control of H&W in 1918. Part 3 covers the tumultuous immediate post-war years, during which period Pirrie was elevated to the rank of Viscount and Philipps became Baron Kylsant, of Carmarthen and Amroth. It also relates the extent to which H&W became an increasing burden upon the finances of Royal Mail.
Part 4 takes the history onward from Pirrie's death during a trip to South America in June 1924.
The Succession[edit]
Ten years before his death, Lord Pirrie told H&W's leading banker that it was planned that Lord Kylsant would be his successor. Unfortunately he failed to tell Lady Pirrie; the H&W deputy chairman - Robert Crighton - or any of the Company's management. Three days after the news of Pirrie's death reached UK, the H&W managing directors gathered in London in a state of shock and confusion. They decided to take no immediate action. A few days later Kylsant stepped into the vacuum, took possession of Pirrie's office and installed himself as chairman. The managing directors accepted his actions with relief, but Lady Pirrie was outraged.
She had never liked Kylsant and regarded his seizure of control of H&W as impertinent and presumptuous. She wrongly believed that as a trustee of her husband's estate she automatically had voting control of H&W. In fact she was completely mistaken, as Kylsant's Royal Mail group owned 59% of the voting shares. Nevertheless, she persisted in an embarrassing campaign to try and bring pressure from Pirrie's business friends to remove Kylsant from H&W and appoint Lord Inverforth (the chairman of Andrew Weir) in his place.
Kylsant felt that the settlement of the Pirrie estate was the necessary step to resolve matters. He began to investigate the affairs of both Pirrie and H&W. To his dismay he discovered that both were in a precarious position. Pirrie's magnificent lifestyle had almost reduced him to destitution, with £325,000 owed to Midland Bank and £475,000 to the Colville family under the terms of the agreement for the purchase of their steelworks by H&W. Pirrie's estate had insufficient funds to pay the servants' pensions listed in the will, let alone provide an income to his widow. Kylsant's instinct was to declare the estate bankrupt, but he was dissuaded from this course of action by Lord Inchcape and Lord Inverforth. They dreaded his widow making a nuisance of herself by going the rounds of everyone she knew in London for support. So Pirrie's extensive properties in Britain were sold and all of the companies that were associated with him were persuaded to join together and provide pensions to Lady Pirrie and the staff.In a conciliatory move, Kylsant appointed Lady Pirrie life president of H&W. She remained unflinchingly hostile to him, however and bewildered by the state of her husband's finances.
Photo 1:
Lord Kylsant (centre) at the launch of the RMSP liner Asturias by Lady Abercorn (left).The photo provides an indication of Kylsant's immense height (6 feet 7 inches) and his stylish mode of dressing. On the right of the photograph are Charles Payne - the managing director of the Belfast shipyards - and Lady Kylsant
The Harland & Wolff on the verge of bankruptcy[edit]
It seems unlikely that Kylsant was aware of H&W's disastrous financial position. He exercised absolute control over the capital structure and margins of the Royal Mail group. Having established strategic policies, he left the operation of his companies to his band of very competent lieutenants. When Kylsant acquired the majority of the shares in H&W, he uniquely left Pirrie in complete charge of the business and remained content to merely receive Pirrie's very sketchy and highly misleading accounts at the Company's annual general meeting. When Kylsant appointed himself as chairman and began investigating the H&W private ledgers he was stunned to discover that the Company was on the verge of bankruptcy.
The only certain Royal Mail group response would have been to face reality; close all or most of H&W and swallow the resultant investment losses. Kylsant felt however that H&W's plight was a serious threat to the survival of the entire Royal Mail group. RMSP, Union-Castle and the Elder Dempster companies, all had substantial share investments in H&W. These investments were in the shipping companies' balance sheets at cost but were in reality almost worthless. Group companies had also made cash loans of almost £600,000 to H&W. In addition, because of the complex cross-investments between the companies in the Royal Mail group, if the collapse of H&W caused one of the shipping companies to fail, this would have a domino effect throughout the group. As the entire group was increasingly dependent upon credit and Government loans, Kylsant thought it was imperative to avoid any public suspicion of failure.
Instead of Royal Mail raising money to cover the group's real investment losses, Kylsant's response to the massive problems posed by the H&W nightmare was characteristically cavalier. Within days he announced that H&W was to go public by the issue of £4,000,000 new non-voting preference shares. This move would require the publication of H&W's accounts for the first time in its history, but Kylsant delayed that event by moving the Company's year end from 30 June to 31 December, thus giving himself a little time to massage the figures.
Against the background of the gloomy news from other public shipbuilding and engineering companies, the preference share issue was a disaster. Only 12% of the stock was subscribed, mainly from the conversion of existing loans to H&W. The rest of the issue was left in the hands of the underwriters. At least H&W received its badly needed funds, but until the underwriters could sell the stock, the entire Royal Mail group was cut off from the Stock Exchange as a source of finance.
The shipbuilder faced other massive problems. In his latter years, Pirrie had filled most of the Company's management positions with servile yes-men. The team had no knowledge of the finances of H&W; how estimates were prepared and contract details were a mystery to them. Over three decades of cost-plus Commission Club contracts (See Part 1) had produced a management with no experience of the application of efficient cost control. The deputy chairman, Robert Crighton buckled under the strain and died some 10 weeks after Pirrie. In the ensuing hiatus, Lady Pirrie briefly assumed control of the works committee and seemed to be trying to seize the leadership of H&W. Kylsant moved swiftly to re-establish control, although he was hampered by the quality of the Company's management. While the young engine-works director, Frederick Rebbeck had great promise, only John Craig of Colville's Steelworks had any overall management experience. John Craig was appointed deputy chairman and the two men devoted their attention to the education and development of the other board members.
Kylsant and Craig also carried out a detailed investigation of H&W's financial situation. They were dismayed to discover that, except for the Commission Club contracts, every ship on the order book was being built at a loss. The twelve-ship Andrew Weir contract was projected to lose over £750,000 and three liners for P&O to lose over £311,000. To make matters worse, Pirrie had already taken the eventual profit on the cost-plus contracts into the results for previous years. Even by the relaxed accounting standards of the 1920s H&W should have shown a loss of about £1,000,000 for the eighteen month 1923/24 accounting period. Kylsant needed to avoid disclosing the true trading position and that, despite the inflow of £4,000,000 from the creation of the new preference shares, the balance sheet was still in a precarious state. The fact that this was the Company's first public balance sheet was a great help - there were no previously published comparatives. Many of the new balance sheet descriptions were highly misleading. Kylsant's creative accounting disguised most of the Company's financial problems. Undisclosed special dividends of £720,000 (from reserves established in prior years by the wholly owned Clyde companies) were added to the current H&W trading income and further amounts transferred to the profit and loss account from H&Ws reserves established in earlier years for other purposes. By entirely ignoring depreciation Kylsant produced a paper profit of £368,000.
Although the balance sheet Audit Certificate was qualified as to the "sufficiency of the provision for Depreciation" the first H&W public accounts were favourably received by the press, financiers and investors in the City. Their main reaction was positive, allaying their fears that H&W would be unable to pay the dividend on the new preference shares. In truth the dividend came from the proceeds of the share issue, rather than trading profits, but this was concealed from the public. The City's favourable view enabled the underwriters to dispose of the shares they were holding, leaving Kylsant and his team to concentrate on bringing work into the shipyards and trying to improve its productivity.
The Pirrie-Kylsant Motor Ships[edit]
H&W needed a large volume of orders to occupy its massive building facilities. In desperation the Company built dumb barges, Lake Maracaibo shuttle tankers, river ferries, lighters, pontoons, in fact anything that floated. The shipyards' main ambition however, was to obtain orders for cargo ships and ideally passenger liners. The primary lifeline for H&W came from series of diesel powered passenger liners for the Kylsant group.
These Kylsant orders were entirely dependent upon Government guaranteed loans under the Trade Facilities Act (TFA) (See Part 3). Negotiating these loans was a painfully slow bureaucratic process. Some of the projects had started before Pirrie's death; as a result the liners are usually referred to as Pirrie-Kylsant Motor Ships.
H&W had already converted an existing diesel powered cargo ship into the Elder Dempster Group's Aba in 1920, which was the world's first diesel passenger liner and had built the motor liner Adda for the same Kylsant company in 1922. (See Part 3) An impressive stream TFA financed motor liners now followed.
The Elder Dempster group liner Accra delivered in 1926 and her sister Apapa in January 1927 were the last of the small, pioneer, diesel propelled liners. Apart from carrying a single fat squat funnel, both ships continued the utilitarian appearance of the earlier motor liners.
Photo 2:
Accra - 9,337 GRT; twin screw, two 12 cylinder B&W diesel engines, 1,651 nhp = 15 knots; 243 First, 70 Second Class Passengers; 130 Crew.
The first, true, Pirrie/Kylsant Motor Ship was the long delayed Royal Mail liner Asturias. She was delivered in January 1926, with her sister Alcantara following in February 1927. They were designed by T C Tobin and were the first liners to be fitted with the odd looking trade-mark H&W funnel. This was fat, round, squat, steeply raked, with a horizontal top exactly parallel to the waterline. This gave the ships a somewhat ungainly appearance, but the designer was so pleased with his strange creation that he gave his ships two of them, including a dummy funnel. More seriously, Asturias proved to be disappointingly slow and suffered excessive vibration in service. In 1934 these unsatisfactory ships were rebuilt, when the diesels were replaced by steam turbines and their appearance enhanced with a pair of taller, conventional funnels.
Photo 3:
Asturias - 22,181 GRT; twin screw, two 8 cylinder four stroke double acting B&W diesel engines with air blast injection, 15,000 bhp = 16 knots service speed; 432 First, 223 Second and 775 Third Class Passengers; 450 Crew.
Union-Castle's Carnarvon Castle was delivered in June 1926, four months after Asturias. She had an identical hull and machinery arrangement as Asturias and suffered from the same problems. In 1937 she was completely rebuilt by replacing the diesel engines with 10 cylinder B&W engines developing 26,000 bhp and extending the forepart of the ship by 30 feet, with a new raked bow. These changes increased her service speed to 19 knots. She was also fitted with a single conventional funnel.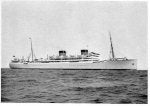 Photo 4:
Carnarvon Castle - 20,122 GRT; twin screw, two 8 cylinder four stroke double acting B&W diesel engines with air blast injection, 15,000 bhp = 16 knots service speed; 311 First, 276 Second and 266 Third Class Passengers; 350 Crew.
Following the delivery of these liners, the next Kylsant Motor ships were five ships for H & W Nelson. The first was Highland Monarch of 1928. Her dummy funnel was fitted aft of her real funnel. As built the funnels were painted red with thin white, black, white bands below a black top and she had a grey hull. In 1932 she was repainted in Royal Mail colours. Highland Chieftain and Highland Brigade were delivered in 1929, followed by Highland Hope (built by H&W's Govan Yard) and Highland Princess in 1930. Unfortunately the ten month old Highland Hope ran onto the Farilhoes rocks when leaving Vigo, Portugal on 19 November 1930. Over 500 people on board were rescued, but the ship was a total loss. Her replacement, Highland Patriot, was delivered in 1932.
Photo 5:
Highland Princess - 14,128 GRT; twin screw, two 8 cylinder four stroke double acting B&W diesel engines, 10,000 bhp = 15 knots; 135 First, 66 Second and 500 Third Class Passengers; 150 Crew.
The two funnel trade mark was even applied to the Belfast Steamship Co's Irish Sea ferry Ulster Monarch (3,851 GRT, delivered 1929). In service, this ship rolled badly in stormy conditions and the funnels were reduced in height, but the dummy funnel was still retained.
Photo 6:
Ulster Monarch as built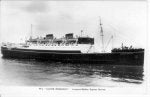 Photo 7:
Ulster Monarch with cut down funnels
Ulster Monarch was followed in 1930 by sister ships Ulster Queen and Ulster Prince and the slightly smaller (3,019 GRT) Innisfallen for the City of Cork Steam Packet Co.
Photo 8:
Ulster Queen
Photo 9:
Innisfallen
The next two Kylsant Motor Ships were delivered to Union-Castle for their Round Africa service. Of all of the ships that were built in this series, these two were probably the ugliest. Bizarrely, although they were both delivered from H&W's Govan yard only six months apart and for the same service, they were built to entirely different designs. Llangibby Castle (1929) was 14.4 feet longer and 1 foot wider than Dunbar Castle (1930) and they were powered by different B&W diesel engines. These differences inevitably added unnecessary costs.
Photo 10:
Llangibby Castle - 11,951 GRT; twin screw, two 8 cylinder four stroke single acting turbo-charged B&W diesel engines, 8,600 bhp = 14.5 knots; 250 First, 200 Third Class Passengers; 220 Crew.
Photo 11:
Dunbar Castle - 10,002 GRT; twin screw, two 6 cylinder four stroke single acting B&W diesel engines, 6,300 bhp = 14.5 knots; 200 First, 260 Third Class Passengers.
The largest ships in this series were two White Star transatlantic liners - Britannic delivered in 1930 and Georgic in 1932. These two ships were not identical sisters, as there were superstructure differences. As built, Britannic had two open superstructure decks, as shown in the photograph. The lower of these openings was plated over during her 1934 refit. Britannic had the same, severely square forward superstructure as the other Kylsant Motor Ships. Georgic had a more attractive, "Odeon Cinema" style, radiused forward superstructure that reflected the Art Deco interior decoration used in both ships. The ships were intended for the Liverpool - New York service (by the 1930s this had a much lower status than the service from Southampton) with the ability to provide relief cover for the main Southampton service.
Photo 12:
Britannic - 26,943 GRT; twin screw, two 10 cylinder four stroke double acting B&W diesel engines with air blast injection, 20,000 bhp = 18 knots service speed; 504 Cabin, 551 Tourist and 498 Third Class Passengers; 500 Crew.
Photo 13:
Georgic - 27,759 GRT; twin screw, two 10 cylinder four stroke double acting B&W diesel engines with air blast injection, 20,000 bhp = 18 knots service speed; 479 Cabin, 557 Tourist and 506 Third Class Passengers; 500 Crew.
Two Union-Castle mail ships were next to be built in Belfast. Although they closely resembled Carnarvon Castle, they had an improved hull-form that overcame the problems experienced with the first three vessels in the Kylsant series. Winchester Castle was delivered in 1930 and Warwick Castle followed three months later in January 1931. In 1938 both ships were re-engined as Carnarvon Castle to achieve 19 knots service speed. There was no need to modify the hull, but they were fitted with a conventional single funnel, which greatly improved their appearance.
Photo 14:
Winchester Castle - 20,109 GRT; twin screw, two 8 cylinder four stroke double acting B&W diesel engines with air blast injection, 15,000 bhp = 16 knots service speed; 259 First, 243 Second and 254 Third Class Passengers; 350 Crew.
Although the PSNC passenger route to the west coast of South America was quite adequately served by the Company's existing ships, the Reina del Pacifico was built "as an act of faith" in the future of the service. In reality she seems to have been mainly built to occupy H&W. Unlike all of the other Kylsant Motor Ships, Reina del Pacifico was quadruple screw, to ensure higher speed. She dramatically outclassed all previous ships on the service, reducing the round trip time to Valparaiso by 18 days. Unfortunately she entered service in 1931 at a time when the world economy was descending into a deep slump.
Photo 15:
Reina del Pacifico - 17,707 GRT; quadruple screw, four 12 cylinder single acting turbo-charged B&W diesel engines, 22,000 bhp = 18 knots service speed; 280 First, 162 Second and 446 Third Class Passengers.
The last of the Kylsant Motor Ships, Achimoto for Elder Dempster, suffered a series of early misfortunes. Her engines were built in H&W's Clyde works and the ship transporting them to Belfast in 1930 sank during the voyage, delaying Achimoto's completion until September 1931. By that time the Kylsant empire had imploded and Elder Dempster were unable to pay the £300.000 contract instalment due upon delivery. Achimoto was repossessed, laid-up at Belfast and offered for sale. The cost-plus value of the ship was £520,000, but the best offer for her was £346,376 from the Melbourne shipowners, Huddart Parker & Co. Although the Australians were clearly taking advantage of H&W's predicament, the transaction gives an indication of how uncompetitive H&W's prices had become. After modification to the accommodation, Achimoto sailed from Belfast on 29 November 1932 and was renamed Wanganella in Melbourne. She entered into her new owner's Melbourne-Sydney-Auckland service in February 1933.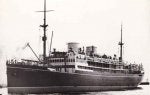 Photo 16:
Wanganella - 9,876 GRT; twin screw, two 8 cylinder single acting turbo-charged B&W diesel engines, 8,500 bhp = 16 knots service speed; 304 First, 104 Second Class Passengers.
This remarkable series of motor ships was without parallel in the world's merchant fleets. The diesel engines involved were very difficult and expensive to build and operate. A number of units developed problems in service. The almost continuous technical modifications that were applied to each set of engines, plus the absence of any form of prototype construction and testing were major contributors to the very poor H&W financial performance throughout the post war period.
Photo 17:
Testing one of the massive 10 cylinder engines for Britannic
Continued Harland and Wolff problems[edit]
Throughout 1925 Craig continued his campaign to reduce costs at H&W. In April the superintending engineer of Union-Castle was appointed as general manager of H&W's shiprepair establishments located in London, Southampton and Liverpool. He was horrified by the extravagance and opulence of their management and he set about a programme of reform. This convinced Kylsant and Craig that similar reforms were needed in the H&W shipbuilding and engineering establishments in Belfast and on the Clyde. They made little progress however against the silent opposition of the managing directors, encouraged by orders for 29 small vessels being received during 1925. This total included 13 ships for the Royal Mail Group, all of which were financed by TFA loans.
The 1925 financial results were an improvement on the previous year, enabling Kylsant to make a £300,000 depreciation provision and to pay the dividend due on the publically held Preference Shares, but he was not able to make any payment on the Preference and Ordinary Shares held by the Royal Mail group. The Company's borrowings increased, but the shipping and financial press were generally pleased with Kylsant's masterful portrayal of the results.
At the beginning of 1926 freight rates started to improve and Kylsant's family owned tramp company, King Line, quickly applied for, and obtained a loan guaranteed by the Northern Ireland Government to cover the construction of three 4,500 ton and six 5,200 cargo ships at H&W Belfast. While this provided additional work for Belfast, the source of the loan prevented H&W from building the ships in the cheaper Govan yard that needed work to follow on from the Andrew Weir contract.
Photo 18:
King Arthur - King Line. 1928; 5,224 tons
The growing optimism was dashed in May 1926 by the national coal miners' dispute and the short lived general strike. The miners remained on strike until the winter causing serious disruption to the group's David Colville & Sons steelworks, leading to a grave shortage of materials in the shipyards. Production schedules had to be abandoned and 40% of the shipyard workforce laid-off. New orders continued to be placed with the Company but these were mainly for very small vessels. H&W needed liner orders, but these were only being placed by the Royal Mail group. As liners were delivered to other companies, no further orders were forthcoming.
Harland and Wolff Liners built for Non-Royal Mail Owners[edit]
During the period covered by this Part of the history, six liners (none diesel powered) were under construction for other companies: -
The Minnetonka was delivered from Belfast to the IMMC company, Atlantic Transport Line in 1924. She was a sister of Minnewaska, delivered by H&W in the previous year. These two ships had colossal cargo carrying capacity and were complete white elephants. The company never ordered any more vessels and it was forced out of business in 1932. The two ships were scrapped in 1934.
Photo 19:
Minnetonka - 21,998 GRT; twin screw, H&W Brown-Curtis steam turbines, 16,000 shp = 16 knots service speed; 369 First Class Passengers.
P&O ordered three liners from the Caird's Greenock shipyard, but these were contracted on a fixed price and not on the usual Commission Club basis. The yard made a loss of £311,256 on a contract price of £2,672,700 for the three vessels. All were delivered in 1925, but H&W did not build another passenger liner for P&O until the Iberia of 1954.
Razmak was built for the extra service that P&O operated from Bombay to Aden to connect with its mail liners operating on the Australia route. In 1929 the faster P&O ships introduced onto the Australian service were able to make an additional call at Bombay and still maintain the contractual voyage time to Australia. As a result Razmak was no longer needed. She was transferred to Union SS Co of New Zealand, renamed Monowai and employed on its Sydney - San Francisco service.
Photo 20:
Razmak - 10,602 GRT; twin screw, quadruple expansion steam engines, 12,000 IHP = 18 knots; 142 First Class and 142 Second Class Passengers.
Photo 21:
Razmak after sale to Union Steamship Company of New Zealand as Monowai in 1930 and subsequent modernisation in 1946.
Photo 22:
The Rawalpindi and Rajputana were built for the P&O London - Bombay - Far East service.Rawalpindi - 16,619 GRT; twin screw, quadruple expansion steam engines, 15,000 IHP = 17 knots; 310 First Class and 290 Second Class Passengers.
Holland America initially struggled to become established, but in 1886 there was a sudden great increase in the number of emigrants to the USA and the Company added a number of second hand H&W built liners to its fleet. H&W was the Company's natural choice when it bought its first new liner, which was delivered in 1897. Statendam was the tenth H&W liner built for Holland America. All work was stopped on the ship after her launch in 1924, because of the impact on transatlantic travel of the draconian new US immigration restrictions. In 1927, H&W were instructed to complete work on the ship's hull and machinery, after which she was towed to Holland for completion. Work proceeded slowly, in pace with the Company's ability to raise finance, with the ship eventually entering service in 1929.
Holland America remained in existence, but never ordered another liner from H&W. The Company is today one of the brands owned by Carnival Corporation. At the end of 2007 Holland America operated 13 cruise ships.
Photo 23:
Statendam - 29,511 GRT; twin screw, Parsons geared steam turbines, 22,000 SHP = 19 knots service speed; 510 First Class, 344 Second Class, 374 Tourist Class, 426 Third Class Passengers.
Oceanic Steam Navigation Co (White Star) and H&W had a very close relationship from the 1870s. H&W built the first OSN vessel, which was the first liner ever built by H&W. The relationship is referred to in each of the earlier parts of this history. Every new-built OSN liner was ordered from H&W. Pirrie had hoped to build replacements for Titanic and its sister Britannic, but instead the Company accepted two war reparation ships, which became Majestic and Homeric. It was clear however that Homeric was not up to the standards required for the main transatlantic mail service and there was jubilation in Belfast when OSN ordered a 60,000 ton replacement from H&W in the summer of 1925. H&W extended and strengthened one of its Belfast building berths for the proposed giant, but sadly OSN was forced to cancel the contract as it could not raise the finance needed to pay for the ship. OSN transferred the contract to buy Laurentic, a far more modest cabin-class ship for its Canadian service.
When the relationship between the two Companies began, both were supported by the Liverpool financier, Gustavus Christian Schwabe. As a consequence White Star ships were built under cost-plus contracts, starting the H&W Commission Club. Ominously OSN demanded that Laurentic should be built under a fixed price contract. H&W responded by producing an austerity vessel, greatly alienating its customer. She was the last coal-fired, triple expansion major transatlantic liner and was already obsolete at the time of her delivery. Bizarrely, although she was intended and indeed named for the Canadian service, she was delivered with masts that were too tall to pass under the Montreal Bridge and they had to be cut down. The ship was considerably delayed by miner's strike and finally entered service at the end of 1927.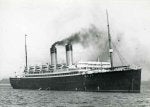 Photo 24:
Laurentic - 18,724 GRT; triple screw, two 3 cylinder triple-expansion steam engines with a low-pressure turbine driving the centre shaft, 15,000 IHP = 16 knots service speed; 594 Cabin Class, 406 Tourist Class, 500 Third Class Passengers.
Oceanic Steam Navigation Co[edit]
In the autumn of 1926, when the shortage of shipbuilding materials was at its worst, IMMC gave notice to terminate its shipbuilding and shiprepair contract with H&W early in 1927. This was disastrous news for H&W. Laurentic would be finally ready to launch, and the H&W Southampton and Liverpool shiprepair facilities had been established specifically for IMMC's vessels. Shiprepair was the only consistently profitable part of H&W.
The draconian US immigration regulations were crippling IMMC and there had already been some failed attempts by other shipowners to acquire all or part of the American group. Despite the precarious financial condition of Kylsant's empire, he immediately offered to buy Oceanic Steam Navigation Co and agreement was reached in November 1926 at the very high price of £7,000,000. The consequences of Kylsant's reckless acquisition on the stability of the Royal Mail group are told in Part 5 of this Article.
Bibliography[edit]
A complete Bibliography for all Parts of this Article is given at the end of Part 7
Photographs[edit]
Many of the photographs used to illustrate this article are from the very large collection contained in the Allen Collection hosted by Benjidog at: -
http://www.benjidog.co.uk/allen
Most of the remaining photographs are from the Ships Nostalgia Galleries, which are available for use in the Directory. Special thanks are extended to Marconi Sahib for his SN postings from the Dickinson collection and Linerrich for providing photographs from his private collection. Both SN Members kindly provided photographs specifically to support this article. The individual photographs used in Part 4 have been provided as follows: -
Harland & Wolff
Benjidog - Allen Collection
Benjidog - Allen Collection
Ships Nostalgia - Dick Sloan
Ships Nostalgia - Ruud
Benjidog - Allen Collection
Ships Nostalgia - Brian Dodd
Benjidog - Allen Collection
Ships Nostalgia - James721
Benjidog - Allen Collection
Ships Nostalgia - Linerrich
Ships Nostalgia - Dick Sloan
Ships Nostalgia - Linerrich
Ships Nostalgia - Dick Sloan
Ships Nostalgia - Tmac 1720
Ships Nostalgia - Trevor Page
Ships Nostalgia - Dick Sloan
Ships Nostalgia - Brent Chambers
Ships Nostalgia - Linerrich
P&O
Ships Nostalgia - Emmanuel Makarios
Ships Nostalgia - Fairfield
Ships Nostalgia - Linerrich
Ships Nostalgia - Marconi Sahib
Article written and compiled by Fred Henderson